Campus Ministry Associate

Pastor Gary N. McCluskey
PASTOR'S NOTES
Gary N. McCluskey, pastor
Below is a rewritten text that I sent to students February 9. I thought I would share it with the congregation, alumni, parents, and pastors.
As most of you know our Campus Ministry Associate Alicia Danielson will be finishing her term May 15. She has done a wonderful job with us. We will all miss her! I know the guy whose office is next to her's will miss her!! Alicia also became a part of the fabric of the congregational community singing in choir, and taking part in most all we do at ULC. NO ONE can replace her. She will be called to someplace and something new and we too are being called to someone and something new. Change is hard but can be a good growth experience as well.
We have been through a process to find an associate for next year and beyond. Council president Darren Gest and council secretary Layna Taylor, myself, and students Rachel Knoche, Jake Roselius, Rebecca Sherod, and Kaitlin Webber were on a task force to screen candidates and make a recommendation. We did phone interviews and narrowed it down to 2 candidates. Both came for a face-to-face interview with the task force.
The task force decided to offer the position to Amy Gauthier, an ASU and LCM alum. Some of you may know her from Campfirmation (a week long confirmation retreat of ELCA Valley congregations in the AZ mountains). Some may know her from the time she was a student here. Beginning next fall we will all get to know her. We introduced her to students Wednesday, February 15 when she led Bible Study and remained for dinner and worship. We have plenty of time before now and August when she begins to meet her and get to know better know her. We will pass along a photo and bio of Amy.
Me? I have quite a few moments when I'm pretty sad about Alicia leaving. Yet I have been through this 5 times before in this ministry and God always seems to give us someone good....someone we need. So I'm working hard to trust God on this one. Will you join me in this "trust struggle"? I also will trust YOU in all of this...but that is very easy. Over the years the students in this ministry have always proven themselves trustworthy and great partners in ministry with me.
In the meantime, we continue to be blessed with the presence and leadership of Alicia. Please keep her and in your prayers as she works to discern the next step in her Christian path. Please keep Amy in your prayers as she prepares to become our newest Campus Ministry Associate.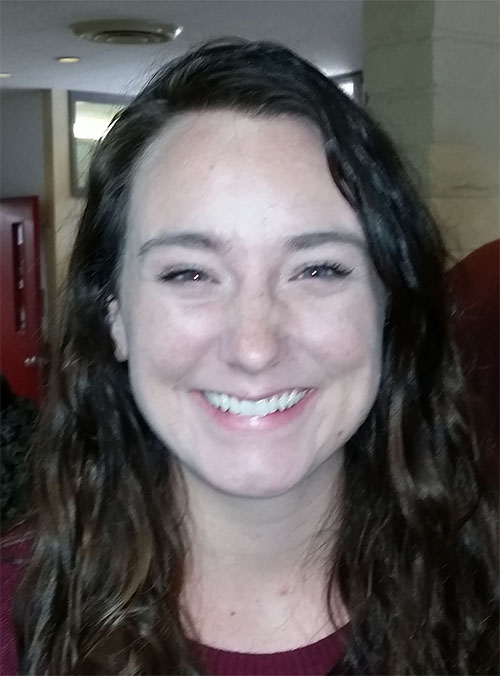 Amy Gauthier

A Note from Amy Gauthier, Campus Ministry Associate beginning 8/17
Hi all,
I'm Amy and so grateful and excited to become part of the University Lutheran and Lutheran Campus Ministry community here at ASU. After graduating from ASU with my elementary and special education degree, I started working at Amy Houston Academy, a school for students who have emotional or behavior disabilities. Along with teaching, I have worked and volunteered at several Lutheran churches around the valley in youth and children ministries. I have a great passion for teaching and for ministry! Again, I am looking forward to getting to know and growing with all of you. Thank you, Amy.