Open Forums Create Opportunities to Learn Every Sunday Morning, 9:15am
The Open Forums held every Sunday at 9:15am usually in the Campus Center Library create many opportunities to learn about history, ourselves, what we believe, travels of our students, mission topics and a host of other topics.
On January 22, we were delighted to have Pastor McCluskey talk about "Divided We Fall?!" How did we get here? Pastor lead a discussion on the cultural and political divide we are experiencing. Is Christianity part of the divide?
Prior to that on January 15, our Music Director Aiko Mancini taught about our music history during Martin Luther's time. The attendees participated and sang some of the music of the time and the effects on our music today in worship.
Visit the schedule of future Open Forums by Clicking Here.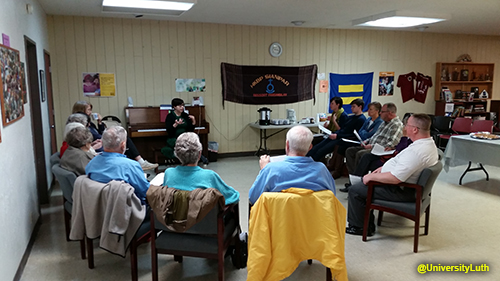 Music Director, Aiko Mancini, talks about music during Luther's era.