Student of the Month - Christian Normand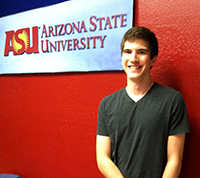 Christian Normand
Where are you from? I was born near Seattle. Lived there 'till I was 6. I moved out here to Chandler and that's kind of where I've been ever since.
What year are you? Freshman What's your major? I'm studying Mechanical Engineering.
What does that involve? A lot of physic, a lot of math, a lot of studying... little social interaction *laughs* that's basically it!
What do you want to do with that? I want to get into renewable energy, maybe get a minor in sustainability. I'm lookin' at how I can fit that into the works.
What are your hobbies? I'm really into music. I love listening and playing it. I play drums and guitar. Okay, other than music, I like getting out of the city and going hiking, kayaking, and fishing. I like gettin' in the outdoors, you know? Oak Creek up near Sedona is really nice.
How did you first hear about LCM? I was involved in LCM down in Tucson. Then when I went to U of A. So, when I came up here I was like, "you know I should get involved in LCM up here too." I knew it was a great thing to be involved in, and I'm lucky I found it.
What do you like about LCM? Oh, there's so much! I like that everyone is just so nice and inviting. The first time I came out here and everyone was just so welcoming. It just felt like my place, you know? I also like Pastor Gary's enthusiasm. It's a different dynamic up here than at U of A, I liked both but it's different. I like it here.
Where do you see yourself in ten years? Or where do you hope to be? I don't know. It's hard to say what things will be like in ten years. Maybe I'll own a hovercar. I hope to have a happy life, doing something I love, and maybe be involved in music. You know, wherever life takes me, that's where I'll be in ten years.
What would you tell freshman who were thinking of joining LCM? They should come on out to Wednesday night or something because it's fun. We're a great group of people