We're So Proud....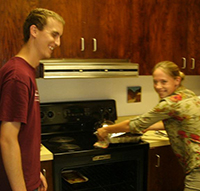 Eric and Loni cooking for the students.
Another honor for Eric and Loni Lenhardt's FlashFood innovation: their student-run startup company has been named a finalist for America's Coolest College Startups!
We wrote before of how their team of six went to Sydney, Australia, to compete in the Imagine Cup Worldwide Finals, after having won in the U.S. Microsoft competition. Now, this!
Their application works to reduce food waste by connecting restaurants, caterers and others with perishable foods with community organizations that accept food donations to serve the hungry. And they have time for UniLu and Lutheran Campus Ministry in a variety of ways along with school and work! Just listen to the buttons popping.....