Jill Rode Update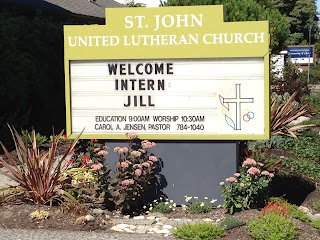 Jill Rode was our Campus Ministry Associate for two years. She left LCM to enter seminary to become a pastor. Currently she is in her third year and is beginning her internship after two years of study and 400 hours or Clinical Pastoral Education. Below is Jill's latest update:
Dear Friends and Family,
I've made it! To Seattle, that is. After an incredible summer, I now ready to begin my third year of seminary which is internship year. It hardly seem real that I am already halfway through my degree and now living in the beautiful city of Seattle. There is much to tell already in the one week that I have been here, and I know that there will be many adventures to come. Excitement doesn't even begin to describe how I am feeling.
Now I know in the past, I've sent out seminary "updates" every couple months or so, but with internship beginning, I'm going to be using a different format to share my experiences. A blog! This way, you can visit my blog at your convenience and read what you want. I will try to update it at least once a week with various thoughts/experiences/questions that I think may be pondering at the moment.
The address for my blog is: http://jillrode.blogspot.com/. If you're not very good at remembering to check blogs, I believe there is an option to email subscribe to it which means that you'll receive an email every time I post something new.
Also, I have a new mailing address for this year (which, interestingly enough, is not the church I am interning at)!
Jill Rode
c/o Ballard First Lutheran Church
2006 NW 65th St
Seattle, WA 98117
Lastly, I again want to thank each and every one of you for continuing to accompany me on journey through seminary. Your support means the world to me, and I am continually uplifted by communication I have with you and the prayers you say for me. So, thank you.
Peace,
Jill Rode