Student Spotlight - Tim Darling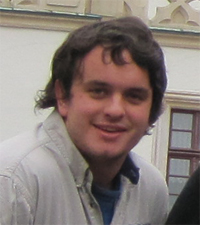 Tim Darling during a recent Germany trip
This month's spotlight focuses on one of our seniors, Tim Darling.
Tell us a little bit about yourself...
I'm a senior bioengineering student getting ready to graduate in May. Woohoo! I love my friends (including people at LCM...) and my family more than anything in the world. The concept of the unknown has perpetually put strain on my life, causing me to almost join the Marine Corps out of high school, and choose to be a music major for a year. However, I find it is this strain and challenge of figuring out the unknown that has given me the greatest joy in my life, such as studying science and engineering and joining LCM. Then finally, apart from bioengineering I really enjoy theology, philosophy, all music that carries a funky beat, horror films, and socializing.
What role has LCM played in your college experience?
LCM has played a crucial role in my college experience. I can park there.
Not to discount the first statement, but I suppose LCM has been other things as well. I came to LCM at a point in my life where I was defining MY OWN faith and spirituality. It provided a whole new network of friends that were welcoming, fun, and genuinely kind. They definitely showed me what it means to be in a community and how important our relationships are in faith. So, while in class I learned all about Fourier Transforms and Bessel functions, LCM taught me how to be a part of a loving community.
Now that you're graduating this year, what advice do you have for incoming freshmen?
Calling all freshmen! Here is the scoop. Stay involved, be a part of something, volunteer, and also remember that you are human. Staying involved lets you meet a lot of neat people, and volunteering gives us an opportunity to give back to a community that supports us as well as stretches our heart muscles. Unfortunately, there are only 24 hours in a day and we need sleep. So, try to keep some time in your schedule for yourself and sleep. It's amazing how much it can help.
What plans do you have for after graduation?
My plans right now after graduation are basically to be determined. I'm looking for jobs and grad schools right now (see attached resume and official transcript)  but also I am really thinking about starting up my own biomedical device company in the valley. Myself and two other students have been working on a venture that strives to produce high quality medical devices at low affordable prices. The venture is called "Sundevil Dezign" and our fledgling device is a high performance eye tracking system that cuts the average price of $28,000 per unit to $5,000. We have had funding for about a year now and are hoping to really make something out of it: check out this site if you want to know more: www.tinyurl.com/sundevildezign
What will you miss the most about being an ASU student?
The thing that I will miss most about being a student here at ASU will definitely be my friends. Even if I don't leave the valley, the dynamic of people that I hang out with will undoubtedly change. While this is not necessarily a bad thing, I will just miss the people that I used to hang out with very much. ASU has provided me with a fantastic group of people to enrich my life with and I am positive it will be really hard to find such a high concentration of high caliber, loving people again. But then again there is Facebook right?
Thanks Tim! Your leadership and strong faith will be missed around LCM! We wish you the best with your affordable medical device venture. Wherever you end up, keep in touch!!