Student Spotlight - Jennifer Brandon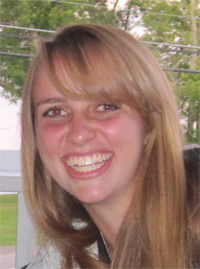 Jennifer Brandon
Another student is in the Spotlight.
Name: Jennifer Brandon
Year: Freshman
What's you major(s)? My major is Economics at the W.P. Carey School of Business.
Hometown: Tucson, AZ
What do you like most about Lutheran Campus Ministry?
My favorite part of Lutheran Campus Ministry is how close knit everyone is. LCM is my family away from home. Whenever you need anything, someone to talk to or even just a kitchen you can bake in, you can find it at LCM.
What has been your favorite event this year?
I don't have a specific favorite event because all of them are so special, but my favorite part of LCM is the Wednesday service and dinner. Wednesday is a perfect night to take of two hours to completely dedicate to the Lord and get away from the nonstop frenzy of your life. It is so nice to come to a home-cooked meal with friends and know that everyone is there for the same reasons.
How has LCM helped you stay strong in your faith?
LCM has helped me stay strong in my faith by constantly reminding me that God will always been there. No matter what is going on in your life God will always be there to listen. LCM gave me the chance to remember that as I moved to college when most students move away from their faith.
What would you like to see LCM get more involved in / do next semester?
I would love to see LCM become more involved with the food banks and charities in Tempe. I believe in giving back to your community and food banks are one of the most direct ways to do that.
What are we at LCM best at doing?
LCM is amazing at including everyone. Whether you are a freshman, grad student, or just visiting you will always be welcome and encouraged to become involved. Whatever you love to do LCM will find a way to help you do that. I personally love baking, and I am always able to do that at LCM whether it is baking the communion bread for the Wednesday service or cooking dinner.
Reflecting on your first semester here, what are some of the most important lessons that you have learned?
The most important thing I have learned so far is something my dad told me when I moved to college. He told me, "Tough times don't last, tough people do," and I absolutely believe that. LCM has already helped me through some tough times in these past few months and showed me that God will help you stay strong.