New Blog Post from Julie Gerrish, Senegal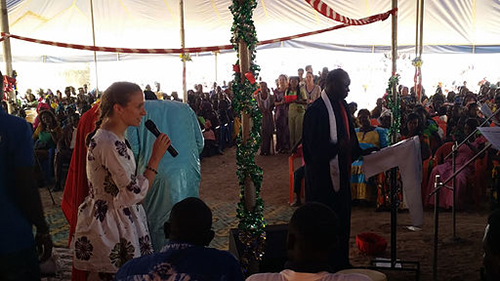 From a recent email from Julie Gerrish:
Hi people,
I am so happy to be able to email with you guys.
Here's a new blog that I wrote, called "Learning to Trust God". It's on the main Senegal YAGM blog page, where there are also links to blogs by other Senegal YAGMs! So if you're curious, take a look.
The past couple weeks have been good, with some ELCA visitors coming to Senegal, Senegal's National Lutheran Church Day, and some wonderful music concerts, which I suppose I will include in the next newsletter.
I have one thing I am curious about. What food are you eating? I have had a lot of cravings the past couple weeks, and I just want to hear what types of food my friends are eating. What did you eat for breakfast, lunch, dinner, snack/other? I am just curious. Or also, is there a time that you had to trust God that you would like to tell me about?
Thanks!
Love,
Julie Gerrish
Mossane Diouf