Welcome all students and parents. (map)
to Will Salz, Art Becker, Blake Petersen, and Terry Anderson for working with the tree company during our tree trimming and tree removal. A tremendous amount of work during record temperatures!
to Art and Lynn Becker and Layna Taylor for working with the exterminator to remove the bees from one of our trees.
Men's Breakfast - Saturday, July 8th
The July Men's Breakfast will be held on Saturday, July 8, 8:30 AM, OINK CAFE, 1701 E. Warner Road, Tempe (just west of McClintock).
Tree Trimming Project Underway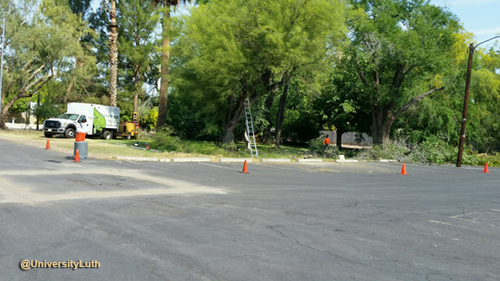 The Property Committee has started Phase One of our Tree Trimming Project. Our beautiful property now has a professional landscaping tree arborist making sure our trees are healthy and don't present any safety hazards. We are thankful for Tree Amigos and their crew.
The project had to be done "out of budget" so we are really thankful to all those who have contributed to the project so far. We hope to raise enough funds to finish the project (Phase Two) in 2018.
You can still contribute by using our online giving form near the upper right corner of our Home Page or simply writing "Trees" on your contribution and place it in the offering plate.
Repair of Parking Lot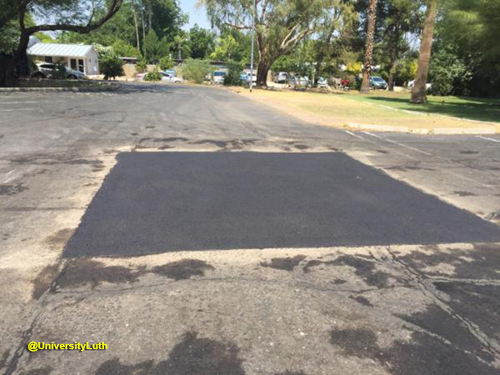 Approximately every three years we resurface the parking lot at the church. it's unfortunate that our parking lot has been resurfaced so many times that doing additional coats will only flake off quickly. We are looking at longer range solutions which may require redoing the entire parking lot.
In the meantime, we are taking steps to ensure that any major problem areas are taken care of to prevent any further deterioration of the area that might cause safety hazards for people walking and using the lot.
We just finished repair a 10' x 10' area using ACE Asphalt who have been very cooperative and will probably be the contractor we use for future work.
Summer Connections!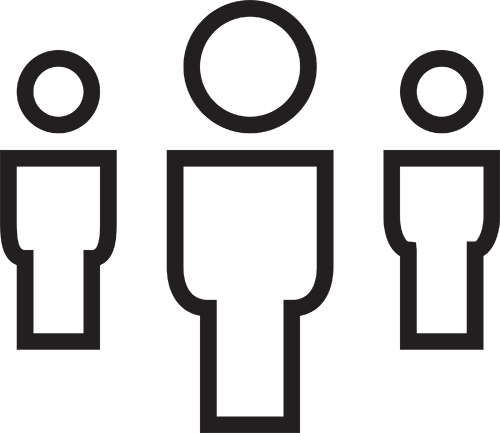 We have an exciting summer of connections planned with several new homes and hosts! So a few questions you may have...
What is Summer Connections? Summer Connections are casual, unstructured gatherings where we can meet new friends and catch up with the old (long time) friends. We share dinner and conversation twice a month during the summer, which is only June, July and August just in case you are not sure! We have a potluck at someone's house or other place, with a variety of food and a variety of people. We go with the flow!
What should I bring? The hosting family usually provides the main dish, which is anything they make. The rest of us bring a side dish or dessert and our own drink if we want anything special. The host family always has water available, they may have something else.
Where should I go? This summer we will be traveling to new locations across the valley. Shawn and Lynn Aiken have often hosted the first connection of the summer but this time we are heading to their new home in Phoenix. Also in Phoenix, Aiko and Brian Mancini will be hosting for the first time at their home. Both of these connections will be on a Saturday evening so we do not get caught in rush hour! We will be in Chandler for the connections hosted by Darren and Marcie Gest and then two in Tempe. Art and Lynn Becker are hosting us at the Campus Center and Dick and Dorothy McCune are hosting at the Friendship Village Rec Center.
Whether you can make all the connections or just one, please put the following dates on your calendar. We never know what we will eat, who will be there or what the weather will be like (OK 100's) but we do know it is a good evening of enjoying fellowship, meeting new people and trying new things. ALL ARE WELCOME!
Saturday, June 17 - Shawn and Lynn Aiken. 3253 E. Glenrosa Ave, Phoenix 85018.
Wednesday, June 28- Darren and Marcie Gest. 1092 N Longmore, Chandler, 85224
Saturday, July 15 - Aiko and Brian Mancini. 7121 N 23rd Dr, Phoenix, 85021
Wednesday, July 26 - Lynn and Art Becker. ULC Campus Center
Wednesday, August 9 - Dorothy and Dick McCune. Friendship Village Recreation Center. 2625 E. Southern, Tempe 85282
Wednesday, August 23 will be held at the Campus Center to welcome back students to the new school year!
If you would like to host or have any questions speak with Beth Wootten. See you there!
Bishop Talmage to Preach at ULC
Bishop Steve Talmage of the Grand Canyon Synod leaves office July 31 to serve as Senior Pastor of Love of Christ Lutheran Church in Mesa. His last sermon as bishop will be here at University Lutheran Church. Bishop Steve and wife Barbara have been members here during most of his eleven years as bishop. Son Craig had been our Campus Ministry Associate for three years. We are grateful for Bishop Steve's leadership in our synod and for the partnership of he and Barbara in our congregation.
Temp Housing Needed
Incoming first year student. We have met her and have been in touch w/ her many times. She comes well recommended from her pastor in Houston, Tx. She needs to arrive early( August 1) and have housing until she can move into her place about August 9. She is looking for a female grad student or someone post college age. If you are interested, contact Pr. Gary using our CONTACT PAGE.
Student of the Mont - Ryan Normand
Tell us a bit about yourself: I will be a senior at ASU majoring in Civil Engineering with a minor in Sustainability. I am a native of Everett, WA but grew up in Tempe, graduating from Corona del Sol High School. I am on ASU's Cross-Country team.
Approaching your Sr. year, what thoughts do you have about the past 3 years? College has been an opportunity to grow and find both independence and yourself. In the past 3 years I have been feeling more like an adult…that is fun!
Thanks Darren, Layna and Terry!
Thanks to Darren Gest for his leadership as president for the past 5 years and to Layna Taylor for serving as council secretary. Also to Terry Anderson who was Vice-President and now council secretary. Well done, good and faithful servants!!
To All who Use our Parking Lot
Monday, June 19 and Tuesday, June 20 there will be NO parking around the perimeter of Peace Park. This means the spots on the far west end of of the parking lot by the park and the grass spots on the south of Peace Park. We will have trees being trimmed those days.
A small are of about 10'x10' of the parking lot asphalt will also be repaired on Wednesday, June 21. You may wish to avoid that area as well on Wednesday only.
Thank you!!