REGULAR SCHEDULE

Starting August 21st
Sunday
Worship
10:30 am
Sunday School and
Adult Forum
9:15 am
After Labor Day

Wednesday
Worship
6:30 pm
---
SUMMER SCHEDULE
Sunday
Worship
9 a.m.
June through August
STUDENT SCHEDULE
Limited events between semesters
Wednesday
Bible Study 5pm
Dinner 5:30pm
Contemporary Worship 6:30pm
Sunday
Worship 10:30am
Dinner following
Students: Check out the Campus Ministry page for specific student events.

We are a
Reconciling Works - Lutherans for Full Participation
congregation
University Lutheran Church intends to provide a safe and welcoming environment for all of God's people, regardless of race, situation, family status, sexuality, gender, size, shape, gender identity and place in the world. ULC is a Reconciling in Christ congregation registered with Lutherans Concerned/North America. Thanks be to God for the blessings we have and the differences we share!
Welcome all students and parents. (map)
Open Forum meets Sundays, 9:15am-10:15am in the Campus Center Library..
September 25: "Minimum Wage Initiative" Luke Black or someone from from the Minimum Wage Initiative office will be here to talk about the initiative on this year's ballot.He will speak in favor of the initiative.
October 2: "Minimum Wage Initiative". LCM student Alex Smith an intern for John McCain will speak regarding concerns against the initiative on the ballot.
October 9: "Reading the Bible". Member Kim Savage talks about her experience and gleanings from reading through the entire Bible.
October 16: " Mission in Uruguay" Heidi Gerrish, sister of recent LCM grad Julie Gerrish and current LCM student Stephen Gerrish will talk about her year in Uruguay as a part of the Young Adults in Global Mission ( YAGM) project of the Evangelical Lutheran Church in America. Sister Julie is in Senegal also as a member of YAGM. Another LCM alum, Annie Skivington is in Hungary for YAGM.
October 23: "Bread for the World: Hunger Update." Led by Ruth Wootten.
October 30: "Countdown to 500: what will the 500th anniversary of the Reformation mean? Pastor Gary will be the presenter
November 6:
November 13:
November 20:
November 27:
December 4:
December 11: Pastor Deborah Hutterer, Lutheran Social Services of the Southwest, "Abundant Aging"
THANKS! The Old Broken TV Is Gone!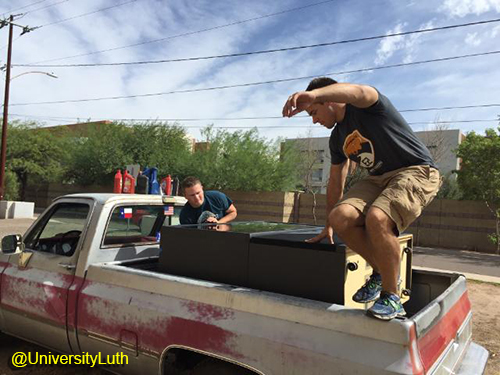 Thanks to Stephen Gerrish, Andy Tadlock and Andy's truck "Bandit" for picking up and delivering the Campus Center big screen TV to Tempe Household Waste.
Condolences
to Terry Anderson and Lori Zurcher on the death of Terry's mother, Betty Vap, on September 22. She died in Billings, Montana.
to Katie Gorin Tay on the death of her grandfather Malcolm Knock. Malcolm's memorial service was September 17 in Phoenix.
Student Bible Studies
Wednesdays 5pm-5:30pm Campus Center
"The Jesus Storybook for Young Adults"
(a look at how the stories of the Bible shape our faith and us)
September 14: "A Giant Staircase to Heaven" (Genesis 11:1-9)
September 21: "The Warrior Leader" (Joshua 6:1-7,15-21)
September 28: "God Messenger" (Jonah 3:-4)
October 5: "God Sends Help" (Acts 2:1-15,41-47)
Unconventional Stories of Grace
Wed. Oct 12: The First Humans - Genesis 3:8-24
Wed. Oct 19: Brother v. Brother - Genesis 4:1-16
Wed. Oct 26: The Dreamer - Genesis 39:1-6a, 20-23
Wed. Nov 2: A cry over Egypt - Exodus 12:21-32
Wed. Nov 9: What you do in secret... - 2 Samuel 12:13-24
Wed. Nov 16: Money Matters - Luke 15:8-10
Grace, Grub and Grog
Saturday, September 24th at 5:30pm, Grace, Grub and Grog (a fellowship for group for young adults and grad students) will be a game night at Maddie Shaner's house, (ask for directions using our Contact Page). Bring any board or card games you enjoy and a beverage or snack! Dinner will be provided. Everybody is welcome--bring your friends and family, too. For more info, RSVP to the Facebook event or contact Maddie Shaner using our Contact Page.
The weekend of Saturday, October 8th, ULC young adults are planning a camping trip to Payson! We'll leave Saturday morning, go for a hike, spend one night at Houston Mesa campground and come back Sunday early afternoon. If you have camping equipment, suggestions for hiking or want to be part of planning the trip, please talk to Maddie, call the Church off or use our Contact Page.
Blood Drive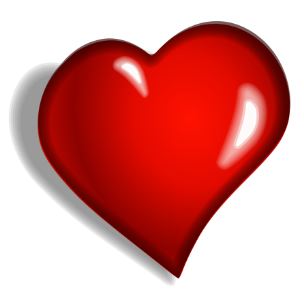 Right here at our own location a Blood Mobile will be present for a blood drive three times during the academic year. We are planning on inviting the Friends (Quakers) next door to be a part. We will need to sign up ahead of time to insure enough donors.
Dates are:
All dates are Sundays after worship.
Women's Bible Study
October 13 at the home of Ann Rispoli
October 27 at the home of Dorothy McCune
Special Prayer Request from our Bishop Talmage
Dear Prayer Partners:
Many of us became aware this weekend of the disheartening and tragic news of the personal threats made against the President of ELCA Bethany College, Lindsborg, Kansas, William Jones and his family. President Jones and his wife are parents of adopted bi-racial children. The threats appear to be the work of a group of white supremacists and are in response to both Jones' family make-up and his push to encourage the campus demographics to be more diverse. As leaders I invite you to pray this Sunday for the protection of the Jones family and all who are targets of words and actions of racially-motivated hatred.
I encourage you to read the cited article that contains President Jones' letter in response. This incident and too many more in our recent past continue to expose the nature of sin working to divide, demonize, and even destroy human community on the basis of race. At the recent ELCA Churchwide Assembly in New Orleans the voting members passed overwhelmingly the implementation of biennial anti-racism training for all rostered leaders in the ELCA.
There is a belief in our Church, the ELCA, that we who are spiritual leaders have a religious and moral obligation to be voices of reason, of peace-making, and of reconciliation, and that our congregations can be the safe spaces where difficult conversations and confessions may be heard for the sake of implementing changing attitudes for the sake of the common good.
Your Partner in Prayer,
Bishop Steve Talmage
Sarah Stone, Daughter of Karen Stone, Gave An Interesting Talk on the Rights of Non-humans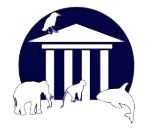 Our Open Forums are bring many interesting topics for discussion. One such issue is the rights of certain animals. As God calls us to be stewards of the earth and the animals that roam this work, the legal rights of certain animals come into question.
Whether you agree or disagree, its a wonderful topic to explor further and see how you might feel regarding the rights of animals.
We thank Sarah Stone for a wonderful presentation. Sharon works for the Nonhuman Rights Project.
One resources she mentioned was that HBO is coming out with a full length feature documentary this coming fall or early next year. You can go view the trailer for this film at http://www.unlockingthecagethefilm.com/
Signs of Your Gracious Love
For the next several months we will put an emphasis on stewardship; the use of all our gifts in service of God and one another through our time, our vocations, and our money. The theme is "Signs of Your Gracious Love". The theme comes from an old offertory prayer in a liturgy formerly used by Lutherans. Stewardship is responding to all that God has given us. Stewardship is a recognition that all we have is a gift from God. Stewardship reminds us that we, through our use and sharing of God's gifts ourselves become a sign of God's gracious love.
We will have monthly Temple Talks prior to announcements by various members and students regarding their personal motivation for sharing their gifts in our faith community.

For those who wish to have offerings transferred electronically to their church's account.
It's SAFE AND SECURE
---

Follow Lutheran Campus Ministry
at ASU

Your Purchase Using This Link Helps LCM
---
Director of Music


Aiko Yamada-Mancini
Click for Full Map