Help Our Garden Grow!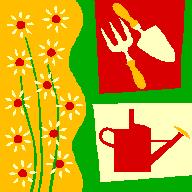 We are starting a ULC community garden! If you would like to be involved please contact Ruth Lindsay at the Church office. We are also accepting cash and in-kind donations! Thanks!
Arizona Heat
The heat of Arizona summer marches on. Perhaps I should say instead, "trudges" on as summer in Arizona, especially in August, seems to move at such a snail's pace it almost seems never-ending at times. Two more months of heat to go!
Water is a resource we use to battle the heat. We swim or simply soak in a pool. Then there are the omnipresent water bottle companions. Some are the disposable kind that we, hopefully, can recycle. Others are those that we fill and refill over and over again throughout the day. In recent years we have learned the great need we humans have to be hydrated. In Arizona summer keeping hydrated is particularly important.
Thanks
to Lana Neighbors for preaching/presiding Sunday, July 26 and for covering in June and July when Pastor Gary was out of town for a conference and for vacation.
Worship Time Change
WORSHIP TIME CHANGE
SUNDAY, AUGUST 23 RETURNS TO 10:30AM
LCM's Movie Discussion Group
Meets at 7pm in the Campus Center
Wednesday, August 5 - "Gran Torino"
Friday, August 14 - "Seven Pounds"
Student ID Card Holder Cell Phone Wallet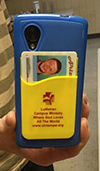 Another inovative idea that you will probably see many students carrying around.
The ID Card Holder (Cell Phone Wallet) attaches to their cell phones and keeps the two items together during their day on campus.
The phrase on the holders says, "Lutheran Campus Ministry - Where God Loves All the World. www.ulctempe.org
Condolences
condolences to Stephen Morgan whose grandfather, Charles Morgan, pass away this passed week. Stephen is flying back to Harrisburg, Pennsylvia, this week to be with his family. Please keep Stephen and his family in your prayers during this difficult time.
Summer Connections

Warm weather is here and for Uniluers that means good food and fellowship! Everyone is invited as vario
us people host the group for the evening. The host family will supply the main course and guests are asked to bring their own beverage plus a salad, vegetable or dessert to share.
We start at 6:00 pm but late comers are always welcome. Our summer connections are very informal, a great place to meet new people, catch up with old friends and hear about summer vacations. Most of the nights are Wednesday, though this year we will meet on one Saturday evening.
Please check your Directory for addresses or call the Church Office between 9a - 2p, Tuesday - Friday for more information.
Keep the following dates open and plan to join us!
Wednesday, August 12
Wednesday, August 26 - Hosted by ULC to welcome back LCM! Campus Center
Open Forum
Meets Sundays 9:15am - 10:15am in the Campus Center Library (beginning September 13)
September 13: "The Stranger" This is a video on immigration from the Evangelical Immigration Table (through Sojourners). Ruth Wootten wil lead the discussion.
September 20: "Luther's Germany" Alicia Danielson, our Campus Ministry Associate, and some of the students who traveled in May to Luther's Germany will be on hand to talk about their experience.
Honor Flight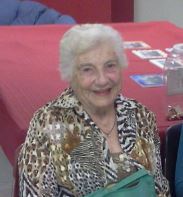 Ann Rispoli (U.S. Navy retired) will be flying with a group of veterans to Washington D.C. September 15-17 on an "honor flight." An "honor flight" honors World War II, Korea and Vietnam veterans by flying them to see the memorials built in their honor (in Washington D.C.). We all all so proud of her! Thank you for your service Ann!
Thanks
to Eric Lehnhardt for repairing the down spout on the sanctuary rain gutter
to Alicia Danielson, Blake Petersen, and Maddie Shaner for filling in for church secretary Ruth Lindsay during Ruth's vacation.
Congratulations
to graduate student Christopher Workman selected to attend an entrepreneurship competition in France. Christopher is there building his gardening device for which he won an award. Christopher also received his BS from ASU and is planning on earning both a PhD and an MD.
LCM Bible Study Topics
"Little Known Stories of the Bible"
Please note that Webnewsday Bible starts on September 2nd, not August 26th as previously published.
Wednesday, September 2: Jael and the tent peg - Judges 4:17-24
Wednesday, September 9: Midwives Shiphrah and Puah - Exodus 1: 1-21
Wednesday, September 16: Deborah - Judges 4:1-10; 5(?)
Wednesday, September 23: Elisha curses the children - 2 Kings 2: 19-25
Wednesday, September 30: Simon the Sorceror - Acts 8: 9-24
Wednesday, October 7: Belshazzar and Daniel - Daniel 5: 1-31
Cardinal Game Fundraiser

The Arizona Cardinals have sold out the 2015 season. We have been able to request a few tickets at a reduced price for another fund raiser. We (LCM) receive $10 for each ticket sold. Ticket prices are $56.50 plus a $4.00 transaction fee. Parking is free. The game is November 22 vs. the Cincinnati Bengals at 2:05pm. Pr. Gary and Alicia have order forms. There are also forms on the desk at the church entrance. Get them in soon so we can reserve these seats and sit together. October 15 appears to be the last day we can return the forms. Forms need to be returned to Alicia or Pr. Gary.
San Diego Retreat
Labor Day Weekend, September 4-7
For college students, grad students
Student Meals
The schedule for Wednesday and Sunday student meals has been posted on the moving bulletin board. Our first student meal is Sunday, August 23. Our first Wednesday meal is Wednesday, September 2. If you would like to help but cannot cook for a large group, you may talk to Pr. Gary about paying for a meal and we can have students or someone else prepare the food. Also, there may be others willing to pair up with you to share in the work and cost of preparation. Talk to Pr. Gary or Alicia if you would like to help out. Thanks to all who do so well to feed our students.
Passport to ASU
Wednesday, August 19:6pm-9pm (set up by 5:30pm)
Location: MU or Sun Devil Fitness Center...typically we learn the location of our table a few days prior to Passport. Look for the LCM table. Come see all ASU has to offer! Taste samples of some of the food venues in the MU and elsewhere!
Classes begin August 20
Thanks
to Shawn and Lynn Aiken, Eric & Loni Lehnhardt, Darren and Marci Gest, Bruce and Donna Lumpkin for hosting Summer Connections in June and July.
to Beth Wootten for organizing and coordinating Summer Connections
to Ken Overturf for assembling our bulletins each week.
Bishop Steve Talmage and ULC member for preaching Sunday, June 28
Student Resident
Christine Wiklins, who resided in our student apartment the past two years is off to medical school at the University of Miami, Miami, Florida. Recent graduate Walter Johnson is now living in the apartment. Walter graduated in May with a degree in chemistry. He is working as a scribe in the ER of St. Joseph's hospital, Phoenix. Walter will begin medical school in the Fall of '16.
Alicia Danielson Synod / Young Adult Coordinator
Campus Ministry Associate, Alicia Danielson has been hired to coordinate a young adult outreach ministry to young adults in the East Valley. This is a part-time job that will compliment the work she is doing here for LCM. Grants from the Grand Canyon Synod (left by a congregation that is being closed) and from the ELCA will fund the position. Alicia has agreed to stay on for another two years here and at this new opportunity. Congratulations, Alicia! We are not surprised the word has gotten out past our ministry of your many gifts!
Maddie Shaner Coordinates ULC / LCM Young Adults
Maddie Shaner, a ULC member and ASU graduate December '14 will coordinate our young adult ministry at ULC/LCM. This group is composed of graduate students (Maddie is entered in a Master's degree program at ASU), and young adults no longer in higher education. They meet at ULC, in the homes of young adults, and in area pubs enjoying "grace, grub, and grog". Look for their events in future bulletins, newsletters, the web site and a soon to be developed Facebook page for this group. Friends are always welcome. Maddie's e-mail is available for contacting the Church off or using our CONTACT PAGE.
Sunday School
Sunday School resumes Sunday, September 13, 9:15am. We are planning on classes for young children and for those post-confirmation age.
Rally in the Valley
It is not too early to circle you calendars with the dates for Rally in the Valley, a Grand Canyon Synod event for Seniors. This year's theme is "Go Into the World". Space is always limited. Check the website http://www.rallyinthevalleyaz.org/
Featured speaker will be Presiding Bishop Elizabeth Eaton...her first time in our synod...and Daniel Speckhard, President/CEO of Lutheran World Relief. Music will be provided by Tom Witt and Mary Preus. Location is Prince of Peace Lutheran Church, Phoenix (Arcadia area of Phoenix). You have never been to one of these? Maybe this year's event is the perfect beginning for you. Pastor Gary and Alicia are planning on being there to represent LCM.
Thanks, ULC!
As you know, we had 13 travel to Luther's Germany. They had a great time. One was our own member, Maddie Shaner. Students' home congregations were asked to support their student by contributing $350 to their students' trip. Some congregations had more than one student attend. All who were asked contributed including our own ULC in support of Maddie. Maddie has some photos and a thank you on the moving bulletin board. Check them out! She also sent a thank you to our council for approving our support of $350 toward her trip.
Movie Discussion Group
Students continue to meet in summer as you may notice in Sunday worship. Often they head off to lunch after worship. They have had game nights and have a weekly movie discussion group.
Check LCM Facebook for movie details. Most are around 7pm the first two Fridays in August. Bring a couple bucks for pizza or some other dinner. Movies in August are:
August 7: "Gran Torino"
August 14: "Seven Pounds"