Open Forum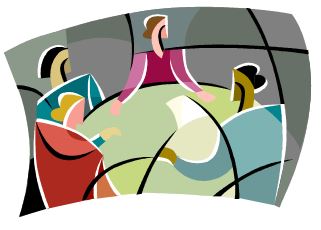 Open Forum meets each Sunday, 9:15 am-10:15 am in the Campus Center Library.
Open Forum Schedule:
Sunday, April 26: "Global Warmng", led by Jennifer Johnson & Kristin Tollefson
Sunday, May 3: "Bread for the World: Offering of Letters Discussion" by Christine Wilkins (note the writing of these letters will be May 10)
Sunday, May 10: "An Imam walks into a Lutheran Church & a Lutheran Pastor walks into

a Mosque…" Feedback Discussion on Imam Shqeirat's visit and ULC/LCM trip to Tempe Mosque.
LCM Wednesday Evening Praise Band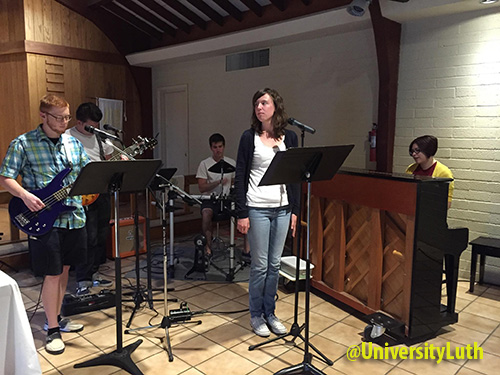 It's always an incredible experience while worshipping at University Lutheran Church with the Lutheran Campus Ministry praise band.
Every Wednesday evening at 6:30 is open for all Students, Guests, Congregation Members, and members of the Community
Page Turner's Book Club
Page Turner's Book Club invites all who like to read to attend our meetings at noon on the first Thursday of each month during the academic year. We meet in the library, bringing our lunches to discuss the monthly choice. We read a variety of styles of books which stretches our imagination, hits our funny bone, questions our understanding of history, and makes us look forward to the next book. Come join us.
Summer Connections
Warm Weather is upon us so it is time to start planning for our summer connections! These are evenings of fun and relaxation hosted by anyone and attended by everyone. The host family supplies the main course, often the grilling of hotdogs and hamburgers, but we are generally not a picky group. Everyone who comes brings a side dish, salad or dessert and their own beverage. Part of the enjoyment of summer connections is the mystery of who will be there and what we will be eating!
Annual Meeting
Sunday, May 17 our Annual Meeting will be held following the 9am worship service. The budget for '15-'16 will be presented and reports given.
Campus Ministry Concert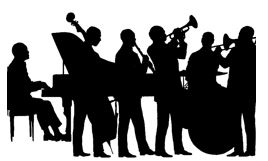 Lutheran Campus Ministry hosted a concert Sunday, April 19, 2pm in the sanctuary at University Lutheran Church. 1940's era swing music will be performed by a jazz band comprised of LCM students. Coffee and desert was served during an intermission.
There was no admission for the concert, but a free-will offering was received to benefit the student trip to Luther's Germany. The community was welcome.
Student of the Month - Kalyn Behnke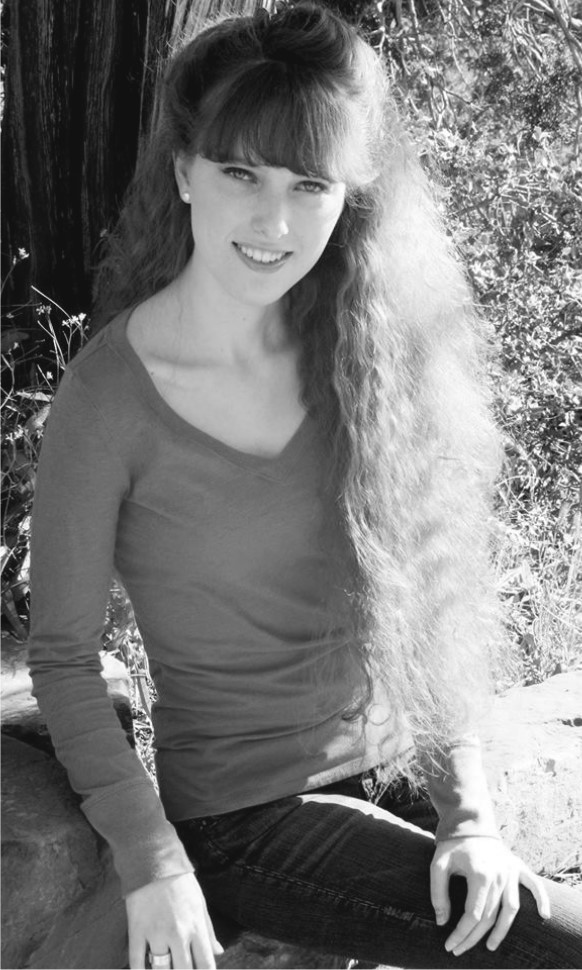 Every month we celebrate one Student of the Month. This month it's Kalyn Behnke.
LCM Student Survey

For LCM Students. For those on Facebook and for those using other social media, there is a survey now posted on Survey Monkey by Alicia which requires your input. Please check out the Facebook Group by Clicking Here or go directly to the Survey by Clicking Here. It's been an amazing year, so your input is critical to make the future even more amazing.
Worship Time Change
Sunday worship moves to 9am Sunday, May 17.
10:30am worship time returns August 23
Budget Hearing
If you would like a chance to preview our budget for July 1, 2015-June 30, 2016, you may do so Sunday, May 10 after worship. Treasurer Beth Wootten will be available near the pool table in the Campus Center with copies of the budget for your questions and input. The budget will be submitted for approval by council at the Annual Meeting, May 17.
Pentecost
Sunday, May 24 is Pentecost. At our 9am worship service we will read the Acts text in various languages. If you can read in a language other than English, please sign up on the moving bulletin board or e-mail using our CONTACT PAGE. Thanks! Danke! Gracias!
Additional Patio Tables - THANK YOU!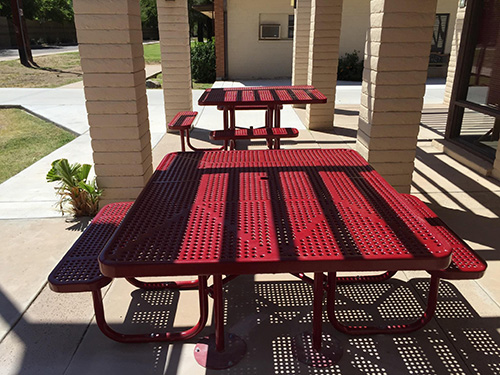 Wow! They're here, they really are! Two additional tables are now installed in our patio area. Your gifts and contributions are slowly making our patio area hospitable and welcoming.
The two additional tables are the same design, but square. This allows one side to be open which will allow wheel chair or special need cart access.
We would especially like to thank Alicia who helped unload the truck. A special thanks to Arno Leskinen and Donna Lumpkin who coordinated the project! Those who helped with installation, and especially those whose gifts which helped make this possible.
Annual Meeting Proposal

Along with the usual annual reports and election of Council members, at UniLu's annual meeting May 17 the congregation will be asked to act on a recommendation of the Council that we become a part of the nationwide effort to have churches across the nation display banners proclaiming "We support peace with justice for Palestinians and Israelis". The effort to bring to wider consciousness the need for peacemaking in is spearheaded by Churches for Middle East Peace, an alliance of 22 Catholic, Orthodox and Protestant traditions (the ELCA is a member}. For years, CMEP (www.cmep.org) has been our voice in Washington to press for a just, lasting and comprehensive resolution of the 50-year old Israeli Palestinian conflict. With the banner project, CMEP aims to have our elected officials become aware of the strong support throughout our nation for a peaceful resolution which ensures security, human rights and religious freedom for all people of the region. In addition a resolution will be submitted to be presented to the synod assembly of the Grand Canyon Synod, June 12/13 in Mesa, AZ. The resolution will be to encourage congregations in our synod to purchase and post signs for CMEP.
Graduation Banquet
Tuesday, May 12, 6pm is our Annual Graduation Banquet. Seniors/Grad students/Law Students in our ministry will be recognized. Graduating are : Eric Aiken, (ASU Law School), Jen Brandon, Kalyn Behnke,( MA), Quinton Dunn, Walter Johnson, Melanie Lehnhardt, Maddie Shaner, Sara Story, & Chris Walmsley. All are invited. RSVP's are required and due by May 7. You may put your reservation on the blue sheet on a Sunday or e-mail using our CONTACT PAGE. This year our theme is a Western Theme, complete with a Bar B Que on the grill. However the banquet will take place in the sanctuary as usual. Brad Myers is coordinating the menu and food. We do need some grills, corn bread or a desert. E-mail using our CONTACT PAGE or sign up on the blue sheet if you can provide such an item. Thanks, pardner!
Congregational Cookout
Sunday, May 3 there will be a congregational cookout after the 10:30am worship service. Students will be cooking for the congregation as a way of saying thank you for all your support this past academic year. All food/drinks will be provided by the students and LCM. All are welcome!!
Summer Reading
We continue to receive a percentage on all Amazon. com sales made through our ulctempe.org web site. Simply go to our web site and click on the Amazon logo. Then order as you normally would. There is no special code needed, but you do have to go through our web site. The first time you may have to enter some of your info so Amazon will recognize you. On future orders, Amazon should then always recognize you, but you will still have to order through the web site. Thank you. This is a big help!! Tell your family and friends about this!!
Food Collection
Summer is an especially lean time for food pantries in AZ. Snow birds have flown north, utility bills are very high and funds are extra tight, few are thinking in summer of the hungry and needy. Pantry shelves are often empty in summer. Please make an extra effort to bring a non-perishable food item or bottled water this summer.
Offering of Letters - May 10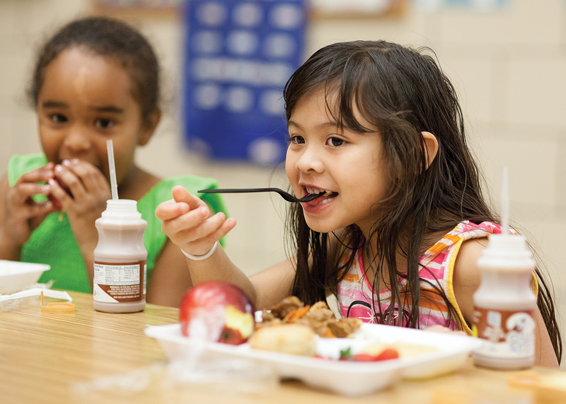 Yes, you'll want to get out your pen and paper to write your senators and representatives that they should reauthorize nutrition programs for low income children! Congress needs to act by September 30 to strengthen and fund these programs which are so vital to the well-being of vulnerable youngsters.
Several of the Child Nutrition Programs about which you will write your congressional representatives are made available through participating schools, such as the National School Lunch, School Breakfast and Summer Food Services program. Some children in child care or qualified after-school programs can also participate, as do some pregnant women, infants and children to age five in the WIC program.
Thanks
to Terry Pochert, Joe Connolly, & Jeff Martinez for arriving early to set up for the Easter Sunrise service.
Easter Celebration at University Lutheran Church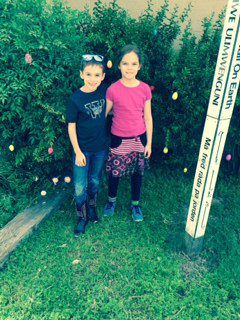 "Christ Has Risen"... "He Has Risen Indeed". Hundreds gathered at University Lutheran Church to celebrate the Resurrection.
Thank you to all who helped donated flowers, decorate the walkways, provide the Easter breakfast and make the day special for all our guests.
Broadway Road Construction
The City of Tempe has just finished their final design for improving the stretch of Broadway Road between Mill Ave. and Rural Road. During the summer and heading into fall, coming to Church from the south may involve navigating through this construction. If the construction becomes a pain, you might want to consider coming to Church off of Main Street (Apache) and coming south on College.
Our Visit to the Tempe Mosque On March 28, 2015, many members of University Lutheran Church were invited to the Tempe Mosque to hear an orientation of their faith and spiritual setting.
Spring Break
In Arizona Spring can be deceiving. We talk about "Spring Training" or schools close for "Spring Break". Yet much of the nation would describe what we glibly call "Spring", "Summer". When temperatures hover in the 80's and occasionally head past 90 degrees, this is not most people's definition of spring. Yet, for those of us who live here, why change what is working? Life, it often seems, doesn't get much better than Arizona in "Spring".
Thanks
to Maddie Shaner and Madeline Reid for singing and playing piano during a Wednesday Mid-Week Lenten worship while Aiko was on vacation
to Nick Cota, Julie Gerrish, Rebecca Sherod, Mitchell Weeks, Alex Willoughby for assembling the April newsletter.
Student of the Month - Stephen Gerrish
Freshman, Electrical Engineering Major