REGULAR SCHEDULE

Starting August 21st
Sunday
Worship
10:30 am
Sunday School and
Adult Forum
9:15 am
After Labor Day

Wednesday
Worship
6:30 pm
---
SUMMER SCHEDULE
Sunday
Worship
9 a.m.
June through August
STUDENT SCHEDULE
Limited events between semesters
Wednesday
Bible Study 5pm
Dinner 5:30pm
Contemporary Worship 6:30pm
Sunday
Worship 10:30am
Dinner following
Students: Check out the Campus Ministry page for specific student events.

We are a
Reconciling Works - Lutherans for Full Participation
congregation
University Lutheran Church intends to provide a safe and welcoming environment for all of God's people, regardless of race, situation, family status, sexuality, gender, size, shape, gender identity and place in the world. ULC is a Reconciling in Christ congregation registered with Lutherans Concerned/North America. Thanks be to God for the blessings we have and the differences we share!
Welcome all students and parents. (map)
EASTER
&
HOLY WEEK WORSHIP
Maundy Thursday
April 13 , 6:30pm - Please note the time.
Good Friday
April 14, 7:30pm
Missio Dei community and their pastor will share with us in both worship services
Easter Sunday
April 16, 6am outdoor Sunrise Worship
10:30am worship: Festival of the Resurrection
An Easter breakfast will be held immediately following the Sunrise service and prior to the 10:30 worship. It is potluck style. Bring a breakfast dish to share. Coffee will be provided.
Time, Talents and Treasures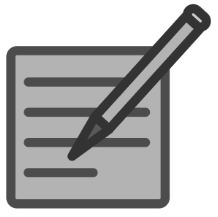 The council decided to have the Stewardship tables before and after church (similar to the picture table) on March 26th and April 2nd.
We will be visiting with people before and after church to see what ways they can help the church with their time, talents, and treasures.
Two Forms which youi may wish to Download and a third to pick up at the Stewardship Table:
The Time, Talents and Treasures Survey Form (PDF) - Fill it out and bring it with you to Church. Additional copies will be available at the Stewardship Table.
Ministering Through Meals (PDF) - Interested in cooking for the Students? This handy little Tri-fold brochure gives you many tips and hints.
Pledge Cards - Pledge cards will be available at the Stewardship Table as well. Filling these out gives our Council valuable information for planning for this coming fiscal year.
It's Going to be a WOW Sunday!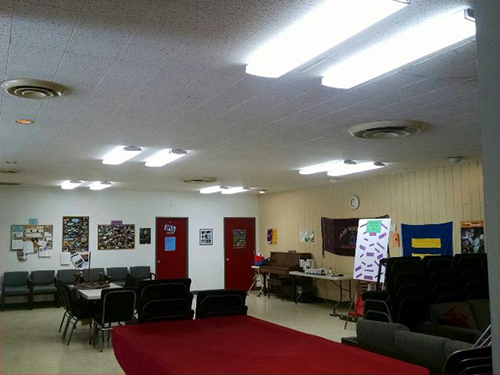 When you arrive at Church this coming Sunday, take a look around and see some amazing things that have happened over the past few weeks.
New LED Lights in the Campus Center. Not only does our Library have new LED lights, but now almost the entire Campus Center. THANKS for your generous donations. If you would still like to donate, each fixture costs $109.00. If you would still like to donate a light fixture, mark LED Lighting in the memo area of your Check or use the Simply Giving icon on the upper right corner of the home page of our website.
Open Forum
"Faith, Sexism, Justice: Conversations toward a Social Statement"

The ELCA Task Force on Women and Justice: One in Christ invites all to join the conversation around women and justice. They have put together an interactive study that will be led by Maddie Shaner and Alicia Danielson during the month of March and into April. Please consider coming to our Open Forums and joining the conversation.
In preparation, you may want to download the actual study from the ELCA website by CLICKING HERE. It's 140 pages, so you may not wish to print it, but read it on your computer or tablet.
March 26: "Communicating the Fullness of God: Why do words and images for God matter?"

April 2:

"The Bible is Not a Weapon: the misuse of scripture against women & girls" continues our series on "Faith, Sexism, Justice" leading to input for a possible ELCA social statement. Led by Alicia Danielson & Maddie Shaner.
We then continue with a new series of topics:
April 9: "It's Time to Talk about Gene Editing" by graduate student & future ASU law student Walter G. Johnson
April 16: NO FORUM: Easter Sunday
April 23: " So, Who are These People?" We'll talk about other leaders of the various Reformation movements. Led by Pr. Gary
April 29: "Our Visit to Senegal" by the Paul & Cindy Gerrish. They visited our alum and Young Adult in Global Mission person Julie Gerrish in Senegal over Christmas break. They will report on Julie's work, the impoverished situations witnessed, and their impressions from their time there.
New LED Lighting Installed in the Campus Center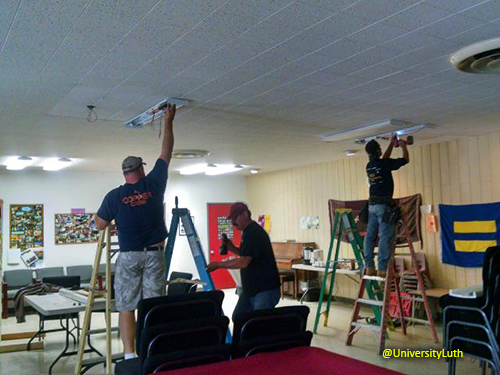 Thanks to all who helped make the new LED Lighting possible in the Campus Center.
Wednesday Services
Mid Week Lent Worship
Wednesdays 6:30pm
"The Dimensions of our Discontent"
Do you find yourself often discontented with life and with the world? Is your discontent necessarily a bad thing for people of faith? We keep searching for something to content us. We keep searching for some "it" that will make all of life fit together sensibly and peacefully. We will explore that in our mid-week Lenten worship. We will use Marty Haugen and Susan Briehl's service, "Unfailing Light" for worship.1
March 29: "The Driven" Mark 8: 27-30, Mark 14:66-72
April 5: "The Despairing" Luke 24:13-35
April 12: "Does "It" Exist?" John 6:35-40
Easter Season Wednesday Services
Wednesday, April 19: "Fail Better"John 18: 15-18
Wednesday, April 26: "Be Not Afraid of Growing; Be Afraid of Standing Still" Genesis 12: 1-9
Wednesday, May 3: "To Be Committed is to be in Danger" Matthew 19:16-26
Student Bible Studies
During the season of Lent, our Bible Study topics, 5pm, will center around the Sunday Lectionary Gospel text.
Wednesday, March 29 - "Here's Mud in Your Eye", John 9:1-41
Wednesday, April 5 - "The Walking Dead", John 11:1-45
Wednesday, April 12 - "Ready or not, here I come", Matthew 21:1-11
Congratulations
To student Paul Sion on his acceptance to University of Arizona Pharmacological school.
to graduate student Walter Johnson on his acceptance for admission to ASU Law School. Upon graduation Walter is planning to receive his juris doctorate in law as well as a certificate in gnomics and bio-technology.
Lenten Coin Folders
Thanks to all who returned Lenten Coin Folders! We are hoping to have them all returned by Holy Week in April. The offering goes to help underwrite expenses for students traveling to Mexico to build houses this summer. Thanks for your support!!
Bookmarks for Lent
Each Wednesday we have a different bookmark for those who worship. Each bookmark has a prayer on it for the week. Extras are placed in the display racks on the desk at the church entrance. Feel free to take some for yourself or others.

For those who wish to have offerings transferred electronically to their church's account.
It's SAFE AND SECURE
---

Follow Lutheran Campus Ministry
at ASU

Your Purchase Using This Link Helps LCM
---
Director of Music


Aiko Yamada-Mancini
Click for Full Map