SUMMER SCHEUDLE
May 7 - August 23
9am
REGULAR SCHEDULE

Sunday
Worship
10:30 am
Sunday School and
Adult Forum
9:15 am
After Labor Day

Wednesday
Worship
6:30 pm
STUDENT SCHEDULE
Limited events between semesters
Wednesday
Bible Study 5pm
Dinner 5:30pm
Contemporary Worship 6:30pm
Sunday
Worship 10:30am
Dinner following
Students: Check out the Campus Ministry page for specific student events.

We are a
Reconciling Works - Lutherans for Full Participation
congregation
University Lutheran Church intends to provide a safe and welcoming environment for all of God's people, regardless of race, situation, family status, sexuality, size, shape and place in the world. ULC is a Reconciling in Christ congregation registered with Lutherans Concerned/North America. Thanks be to God for the blessings we have and the differences we share!
Welcome all students and parents. (map)
Bishop Talmage
Bishop Steve Talmage will preach this Sunday, June 28. Bishop Steve, wife Barbara, and son Craig are members of ULC.
Congratulations
to Carl Mangold, recognized at our synod assembly for the 40th anniversary of his ordination
Thanks
to Eric Lehnhardt and Ellie Strang for serving as our voting members to the Grand Canyon Synod Assembly.
Notes From The Grand Canyon Synod Convention
John Collins elected to synod council as young adult member.
LCM alum Abby Henderson addressing Grand Canyon Synod assembly regarding her year in South Africa with Young Adults in Global Mission
Terry Pochert elected as delegate the the ELCA Churchwide Conference in New Orleans in 2016
We Support Peace

Before long, we'll see a banner in front of the church reflecting our congregation's support for a peaceful solution to the decades-old conflict in the Middle East. At the congregational meeting we voted to join the campaign of the Churches for Middle East Peace (of which the ELCA is one of 22 faith-based members) by displaying a banner to publicly reflect our support for an immediate need and urgent opportunity to advance this cause of peace. It will but one effort to increase public awareness and contribute to lasting negotiations. CMEP's goal is to have at least one banner displayed by a congregation in each of the 50 states.
UniLu also forwarded a resolution to the Grand Canyon Synod Assembly, urging all our members to contribute to lasting negotiations and increase public awareness by visibly and publicly demonstrating the need for peace and justice between Israel and Palestine. Purposeful prayers, conversation, public display of banners and signs demonstrating support for peace and justice, and by urging our congressional delegation to support negotiations are efforts suggested in the resolution.
Further information is available at http://www.cmep.org
Another School Year Past
So, another school year is past. So, another summer is at hand. So, another fall will come. So..... How do we approach the regular cycle of life and the regular patterns of ministry in a faith community? Is our attitude one of "Here we go again?", or is it, "Deja vu all over again?". Perhaps we just simply slide into the routine without even thinking about it. Do we look forward to such, do we dread another year at hand, or do we actually find some excitement about it all?
And the rain is still falling.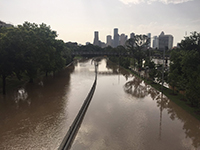 "Responding to the severe flooding in the southern plains" (5/29/2015)
Texas, Oklahoma and now Arkansas are experiencing severe flooding that started due to heavy rainfall and flash floods in the region during Memorial Day weekend. This has been the wettest May, or even month, on record for most of the region. In Texas, it is estimated that 35 trillion gallons of rain have fallen during the past month. Some cities in Texas have received at least four inches of rain for the past 25 consecutive days. At least 27 people have died due to the flooding in the U.S., and several more people are still missing. Normally dry riverbeds are flooded, leaving 4,000 houses damaged or destroyed and many streets and interstates submerged.
And the rain is still falling.
Phoenix Islamic Center Events - May 29, 2015
Note forwarded from our Bishop, Steve Talmage.
Last Monday we remembered those who gave the ultimate sacrifice for the many freedoms we enjoy in this country. Two cherished freedoms are those of religion and free speech. Many of you have become aware of the demonstration that will be taking place outside a Phoenix mosque tonight as Muslim neighbors go to pray. The ELCA and the Grand Canyon Synod do not condone such actions of intimidation guised as an expression of free speech. The mandate Jesus gave us balances our love for God with our love for neighbor as ourselves. I encourage your prayers for peace among all our neighbors. I encourage us to stand up against any acts of violence or hatred toward another who happens to express their faith different from our understanding.
I am providing a link to a CNN posting (http://www.cnn.com/2015/05/29/us/mohammed-cartoon-contest/) and to the Arizona Faith Network invitation to gather on Monday evening to contrast what may unfold tonight ((http://www.azfaithnetwork.org/.
Praying for Peace,
Steve
Annual Meeting
The Annual Congregational Meeting was held Sunday, May 15 following worship. President Darren Gest presided over the meeting. A budget for fiscal year 2015-16 was adopted in the amount of $ 271,300 was adopted. Our fiscal year is July 1-June 30. Elected to church council was Nick Cota, a student who will begin his Sophomore year at ASU in August. Nick is a civil engineering major from Chandler. He and his family are members of Desert Cross Lutheran Church, Tempe. We could still use another council member if you would like to serve. Contact Pr. Gary or President Darren Gest, using our CONTACT PAGE if you have interest. Council meetings are the second Tuesday of each month, 7:15pm until about 8:30/9pm. If you would like to review the Annual Report or the budget, copies are available on the desk at the church entrance.
Grace In The City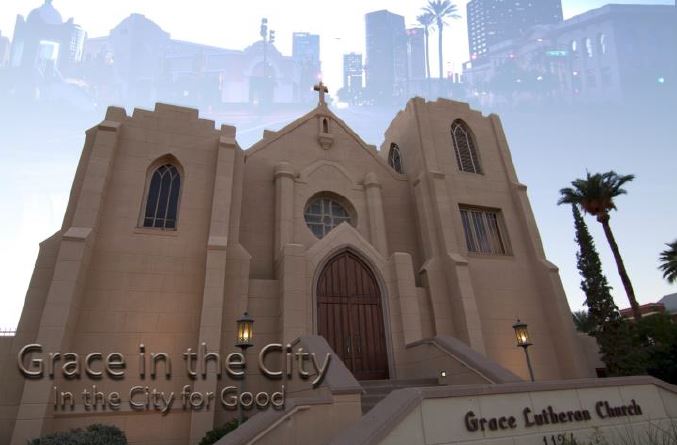 Greetings All,
At Grace, we are called by God to be in the city for good! To that end, we will host a heat respite station in Hope Hall, June 15-August 28, Monday-Friday, 9 am-5 pm. Our mission during the summer months is to provide a space for heat relief while building community through the sharing of meals, water, community resources, and ourselves. This will be our 10th year hosting this program and we are very blessed and thankful, for it is only with your help that we have been able to achieve this.
If you or your friends, family, coworkers, or neighbors would like to be part of serving the community, Heat Respite is a great opportunity to serve. Remember that you can volunteer in a variety of capacities and times as we need folks who can work in the kitchen, with guests, performing administrative tasks, those who can stay all day every day and those who may only have one hour all summer.
Key volunteer positions that still need to be filled include Food Managers and Hospitality Managers (see attached)
If you cannot volunteer your time other needs for the program include:
Bottled Water
Pre-packaged Snacks
Fresh Fruit
Cash Donations to pay the electric bill
Professional Services – barbers, hair stylists, manicurists, massage therapists or other care professions to donate services
Sharing our need for volunteers with others
Prayers
Donations may be brought to the church during regular heat respite hours or by appointment at other times.
We invite all those interested in volunteering for or donating to the 2015 Heat Respite to please contact our outreach coordinator, Richard Ricketts, at outreach@graceinthecity.com or 623.330.7970.
God Bless,
Richard Ricketts
Grace Lutheran Church Outreach Team
1124 N Third Street, Phoenix AZ 85004
623.330.7970
outreach@graceinthecity.com
More Pictures from German - May 21, 2015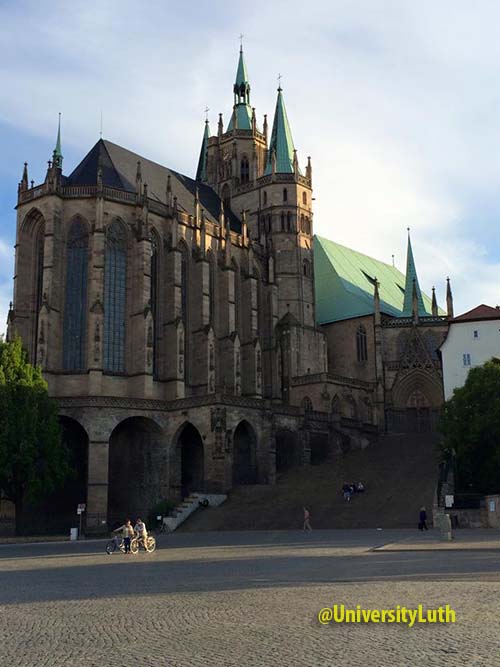 More pictures from Germany. http://germany.ulctempe.org/
Another Amazing Day - May 21, 2015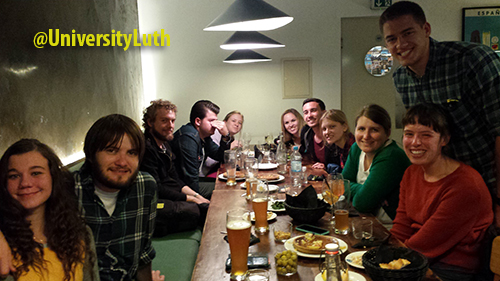 No wifi at hostel, so found spotty signals at coffee shops. Here are some pics. Erfurt is beautiful, quiet compared to Berlin. Yesterday's tour of Wartburg Castle was great! Today we visited Buchenwald Concentration Camp. Pics are: Erfurt, Wartburg Castle, Luther's room in Wartburg Castle. - http://germany.ulctempe.org/
Congratulations
to Rona Johnson and Mary Peterson on the marriage May 16 in Laveen, AZ
LCM Germay Trip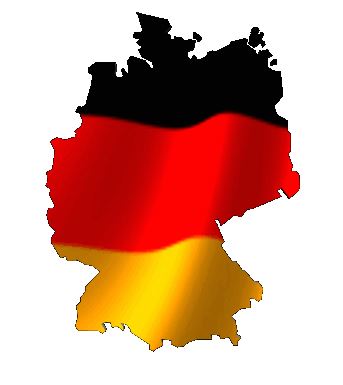 NEW PICTURES JUST ADDED. - http://germany.ulctempe.org/
We will be trying to collect various videos and photos from the various social media platforms and post them together at http://germany.ulctempe.org If you have comments, you can leave them there if you don't have access to facebook, pinterest, snapchat, etc.
New Young Adult Leader
Graduate student and ULC member Maddie Shaner has agreed to lead the Young Adult Group (aka Grace, Grub, and Grog). Thanks to Loni Lehnhardt for leading this group the past two years!!
In addition to meetings for Grace, Grub, and Grog, other activities will be planned. This group is for young adults 22-??. Graduate students are welcome. Singles and couples are welcome! We will have a Facebook page just for this age group. Check out the web site, newsletters, bulletins and e-mails for events. Questions? Contact Maddie by using your CONTACT PAGE and selecting General Inquiry.
Senior Banquet
Tuesday, May 12 was our annual Graduation Banquet. Together we celebrated the graduation of our students and their years here. As always, it was very much also a celebration of ministry together and part of what we do at ULC/LCM. This year's graduating students were:
Eric Aiken, Sandra Day O'Connor School of Law, ASU
Diane Bowersox, MS Accounting
Jennifer Brandon, Business and Art History
KalynBehnke: MA, Political Science ( beginning law school at ASU in the Fall) Moeur Award Winner
Quentin Gunn, Economics and Mathematics, Flinn Scholar
Walter Johnson, Chemistry, Moeur Award Winner
Melanie Lehnhardt, Business
Madeleine Shaner, Spanish (Maddie is a ULC member and begins grad school at ASU in August)
Sara Story, English Literature, Moeur Award Winner
Christopher Walmsley, Computer Science
Summer Worship Help
If you have been in worship lately, you have noticed most students have returned home. That means we need extra help for communion assistants, ushers, lectors, altar guild, etc. Please sign up on the moving bulletin board. Thanks! We will soon have meal sign ups to feed students for fall semester.
Food Collection
Shepherd's Warehouse, where our food collection goes was overwhelmed by our latest collection of food! Almost monthly we fill our food box. Last month the box was highly inadequate for the additional collection of toilet paper and bottled water. Thank you to all who help with this!! Summer is the time of highest demand for food in the Valley. Utility rates are high and budgets become tighter. In addition few think of hunger this time of year and many who do are now on vacation or have moved north to cabins or homes for the summer. We also feed some who drop by our church looking for food. Thanks also to those who supply the student food box on top of the pop machine. It has been both used and appreciated!! There is not much of a demand for this in summer. Thanks to all who make a special effort to bring a food item or items each week. Thanks to all who make an extra effort to do this during summer.
Thanks
to Nick Cota, Julie Gerrish, Mikayle Holm, Melanie Lehnhardt, Maddie Shaner, Cameron Solace, and Troy Wagner for teaching Sunday School
to Alicia Danielson for coordinating the Senior banquet
to Carmen Bieber, Joe Connolly, Terry Pochert, Darren and Marcie Gest, Lori Jensen, Carolyn Johannsen, Bob Foley, Ruth Lindsay, Brad Myers, Justice Myers, Will and Mary Ann Salz, Ellie Strang, Layna Taylor, Ruth Wootten, and all who worked so hard and donated food, grills, etc. to make our Senior Banquet a great success.
to the entire congregation of ULC for all their support of campus ministry. We recognize this support each year at our banquet.
to Cindy, Paul, Julie, Stephen and Sparky Gerrish for hosting our pool party. They allowed us to use their home, pool, games, etc. and provided all the food, set-up and clean-up.
to Blake Petersen for his on-going paint projects at the church.
to Prince of Peace Lutheran Church for their donation of a video projector.
to all who attended the "Thank You Que" (aka Bar B Que) at the end of the academic year put on by students as a thank you to all in ULC for their gracious support each and every year
to Alicia Danielson and the students who set up umbrellas, tarps, cooked, served, cleaned up and put together a great "Thank You Que"
Student of the Month - Paul Sion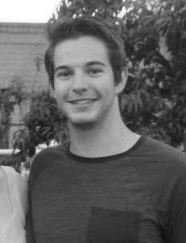 Sophomore - Biological Chemistry Major: Why did you choose to go to ASU? I grew up an ASU fan; ASU has been in my life for a long time. I really liked Barrett Honor's College.
Thrivent Helps ULC/LCM
Are you or a member of your family a member of Thrivent Financial? (AKA Thrivent Financial for Lutherans). If so there are two ways you can help our ministry.
1. Thrivent Choice Dollars. Each year members are asked to direct their Choice Dollars to a ministry (for our purposes, only LCM qualifies...congregations do not qualify. At no cost to the Thrivent member, these dollars are directed to LCM. They know us as Lutheran Campus Ministry, Arizona State University. Each year they will ask you to renew. You can go on line and Thrivent.com to make your selection.
2. Action Teams. For every event we do: Banquet, retreats, workdays, Men's Bakeoff, Christmas or Easter decorating, the final Summer Connections at the church, our garden, Passport, Lefse making, etc. a member qualifies for $250 in aid to help fund or fund the event. The money comes in the form of a paid Visa card, charged with $250.00. Materials then are purchased for the event using this card. This also is found at Thrivent.com. Again, no cost to the member and there is a brief report to be filed afterward. Both ULC and LCM qualify for this money. It can be done each year.
Questions? Contact Carolyn Johannsen using our CONTACT PAGE and selecting General Inquiry or talk to Pastor Gary. Thanks!!
(Yes, alumni and others in far away places can take part in this)
Books and Beyond...
If you shop on Amazon.com, please use the church web site! By finding the Amazon icon on the homepage of our website (www.ulctempe.org) you can click on that and go to the Amazon site. There are no special codes or passwords. The first time you do this you will have to let them know who you are and in the future Amazon will recognize you even through our web site. At not extra cost to you, ULC/LCM receives a 1% rebate of your purchase. The church does not who gives this money nor what is ordered. Amazon waits until about $100 is in our account, then forwards a check to us. So, for your summer reading or whatever you purchase through Amazon, we invite you to order through our web site. Just one extra click! Tell your friends, neighbors and family!! Thank you to all who do this!!
Ruth....print the Summer Connections schedule you have....If we can fill in the one or 2 remaining blanks before printing the 15th, fine, if not, we'll go w/ what we have.
Student Meals
Thank you to all who fed our students this year!! Wow! What a great array of foods and such a large outpouring of support from our community including church members, guests, parents, and the students themselves. Many cooked while others gave contributions so food could be purchased and cooked. Thank you!
There is a thank you gift to all who cooked waiting on the pool table for you. They are book marks or book corners.....use them on the corners of pages like a book mark. They were creatively done by students of LCM. Pick up yours today.
We will soon have a new sign-up on the bulletin board for meals for Fall semester. Thank you in advance for helping out!!
Summer Newsletter
This is both the June and the July newsletter. Articles for the August newsletter need to be submitted no later than July 15. Anything needed to be posted in the bulletin or web site can be done by sending them to news@ulctempe.org. This is also the address for August newsletter submissions. Thank you.
LCM Dates
Passport: Wednesday, August 19, 6-9pm, Memorial Union or Sun Devil Fitness Center (formerly Student Recreation Complex). We need to set up by 5pm
Classes begin: Thursday, August 20
San Diego Retreat: Labor Day Weekend, September 4-7
First Student Sunday: Opening of the Academic Year, Sunday, August 23 (worship returns to 10:30am), First Sunday Student dinner August 23.
First Wednesday Student Meal/Wednesday worship: August 26 ( No Bible Study this Wed only)
First complete Wednesday schedule with Bible Study, dinner, worship: Wednesday, August 26.

For those who wish to have offerings transferred electronically to their church's account.
It's SAFE AND SECURE
---

Follow Lutheran Campus Ministry
at ASU

Your Purchase Using This Link Helps LCM
---
Director of Music


Aiko Yamada-Mancini
Secretary



Ruth Lindsay
Click for Full Map