Variety of Gifts
As I write this, it is about 2 weeks prior to the arrival of students. Allow me to predict what our new students will be like this fall. By the time you are reading this they should have been here about a week or more so you can check out my ability or lack of ability at such prognostication.
New students will come with a variety of gifts, personalities, and emotions. Some will be geared more to the areas of liberal arts, some to the sciences, some to business, and others to engineering. There will be students on scholarships and students who will have to take out large student loans. There will be Barrett Honor students and students who just squeaked by into the admission standards.
Baptisms
It was our privilege to baptize into the Christian faith and community two children in August.
August 16: Elizabeth Aly Pochert, daughter of Aloyna Yuryevna Pochert and Jason Pochert
August 23: Dean William Gest, son of Marcie and Darren Gest
The Garden Grows!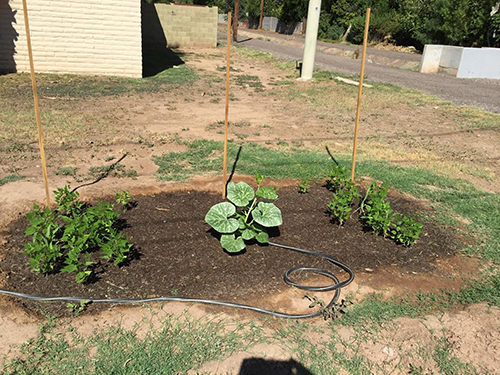 When you come to Church on Sunday, take a few minutes to look north of the patio area at the garden. Not only is our school hear out to a budding start, but the garden is now taking root thanks to lots of hard work by the volunteers and to those who donated supplies.
Page Turner's Book Club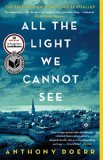 LIKE TO READ? Please join us at noon in the church library on the first Thursday of each month. .
Grand Canyon Synod Women of ELCA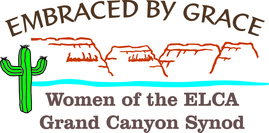 Their retreat is coming up - "Garden Getaway: Where Women Walk With God", October 23-24 at the Spirit in the Desert Retreat Center in Carefree. Register by October 9 at www.grandcanyonwomen.org . The cost is $130 and covers an overnight stay on Friday plus breakfast and lunch on Saturday. The commuter cost is $45 and includes lunch on Saturday.
10 years after Hurricane Katrina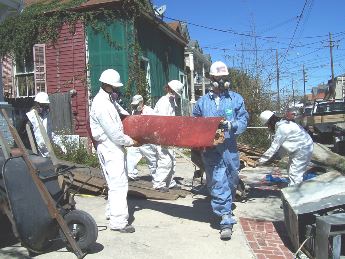 Read about what is happening 10 Years After Hurricane Katrina and what your gifts helped do. This article is from the Lutheran Disaster Reponses Blog. To read the entire article, click on READ THE ENTIRE ARTICLE ONLINE.
Welcome Back Students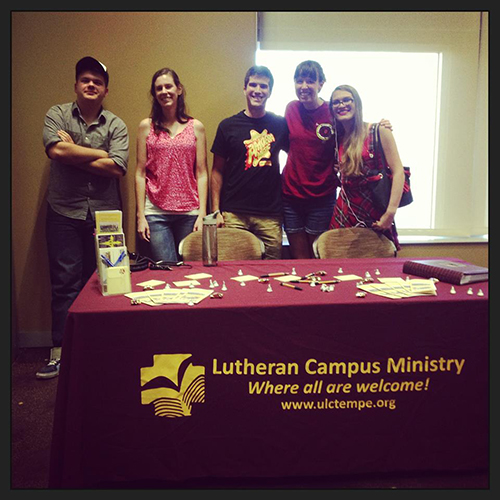 Smiling faces greet the students as another school year begins at Arizona State University.
The Children's Nursery Welcomes All the Tots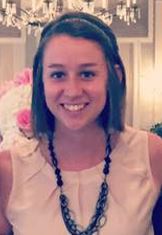 We are once again pleased to have Rebecca Sherrod back this year to manage our Children's Nursery. Enter the nursey through the door to the left of the organ marked restrooms.
Student Meals
Thanks to all who signed up to feed the students this fall! We still have some openings on the sheet posted on the Moving Bulletin Board. Openings are for Sundays (following worship) and Wednesdays (ready to eat at 5:30pm). There are brochures available on the desk at the church entrance if you have questions or you can speak with Pastor Gary or Alicia. If you would like to help but cannot cook for a group, you may give a contribution to purchase food and the students will purchase and cook the food. Just let us know this is your plan. Thank you!!!
New Church Secretary
After over two years church secretary Ruth Lindsay has decided to take time off to be with daughter Eleanor. Thanks, Ruth! (Ruth will continue to work with our Community Garden).Hired at our council meeting, August 11 was Deb Hull. Deb is a long-time member of ULC and recently retired from the Advising Dept. at Mesa Community College. For many years "Dr. Deb" worked and taught at ASU and, for two years worked at Texas A & M. In the past she also had served as a church secretary for an orthodox church and filled in for Carmen Bieber when Carmen was gone to Australia, etc.
Deb began work August 18. Office hours, Tuesday-Friday, 9am-2pm, will remain the same. Deb can be reached at work using the info@ulctempe.org e-mail or the church phone/voicemail: 480.967.3543. Welcome Deb!
Thrivent Choice Dollars

It's nearing the end of the year when Thrivent members can make "Choices" for their Choice Dollars. As Thrivent members and without affecting any of your investments, you can direct what this investment company calls "Choice Dollars" to specific charitable organizations. We hope that when you search for organizations you will consider both:
University Lutheran Church - Tempe, AZ
Lutheran Campus Ministry - Tempe, AZ
Amazon.com orders

Do you order books or any products from Amazon.com? If so, ordering through our website will give us a portion of your payment at no extra cost to you. Simply go to www.ulctempe.org, click on the AMAZON logo in the right column.
Click on that, then order as you normally do. No special code or password required. After you do this once, Amazon should recognize you through this website just as it does now. We receive 1% of your purchase price at no additional cost to you. Thank you! Tell your friends!
Open Forum
Meets Sundays 9:15am-10:15 am in the Campus Center Library beginning Sunday, September 13
September 13: " The Stranger" This is a video on immigration from the Evangelical Immigration Table (through Sojourners). Ruth Wootten will lead the discussion.
September 20: "Luther's Germany" Campus Ministry Associate Alicia Danielson and some f the students who traveled in May to Luther's Germany will be on hand to talk about their experience.
September 27: " Resident Aliens" Do you feel something is wrong in our culture? Do you agree with those who think so? Do you agree with what you hear is wrong? Or do you see some other things as being wrong? How does a Christian live at home yet as an alien in any culture? Can a Christian live so? Pastor Gary will lead the discussion.
Coming Attractions in the Open Forum....
October 4 TBD
October 11: "Social Privilege and Discrimination" Are we all part of discrimination and prejudice in the various systems in which we are apart? Led by Noah Fritz, adjunct professor of Criminal Justice at ASU, criminologist for Tempe, and member of ULC
October 18: "Criminal Justice and Prejudice: Implicit and Explicit discrimination in our system. Discussion will be led by Noah Fritz.
October 25: TBD
Cardinal Game Fundraiser

The Arizona Cardinals have sold out the 2015 season. We have been able to request a few tickets at a reduced price for another fund raiser. We (LCM) receive $10 for each ticket sold. Ticket prices are $56.50 plus a $4.00 transaction fee. Parking is free. The game is November 22 vs. the Cincinnati Bengals at 2:05pm. Pr. Gary and Alicia have order forms. There are also forms on the desk at the church entrance. Get them in soon so we can reserve these seats and sit together. October 15 appears to be the last day we can return the forms. Forms need to be returned to Alicia or Pr. Gary.
September Sunday Schedule
All worship services on Sunday in September are 10:30am
Sunday School begins Sunday, September 13, 9:15am. Julie Gerrish will coordinate the Sunday School.
Wednesday Worship Service
6:30pm...Wednesday worship is for all!!
Our theme for the beginning of the semester is "Spiritual Duct Tape"
Wednesday, September 2: "I'm a Good Person"
Wednesday, September 9: "Certainty: I need to know!"
Wednesday September 16: "Faith is Simply Following God's Laws"
Wednesday, September 23: "Being a Christian is all about Morality"
Wednesday, September 30," I Believe!"
Wednesday Bible Study
5pm beginning September 5 in the Campus Center. Our theme for the beginning of Fall is
" Little Known Stories of the Bible"
September 2: "Go Directly to Jael....Jael and the Tent Peg" Judges 4:17-24
September 9: "Midwives Shphrah and Puah" Exodus 1:1-21
Setpebmer 16: "Elisha Curses the Children" 2 Kings 2:19-25
September 23: "Simon the Sorceror" Acts 8:9-24
September 30: "Belshazzar and Daniel" Daniel 5:1-31
Student Schedule
Beginning September 2 Wednesday schedule will be:
Bible Study 5pm
Dinner 5:30pm
Worship 6:30-7:10pm
Choir rehearsal 7:30pm
Sunday
Worship 10:30am
Dinner following worship.
Leadership Team will meet monthly
We will also have Movie Night with movies ranging from very recent to classical movies and a discussion following. We will also schedule "Digging Deeper", a group eager to explore various topics of faith and life openly and deeply. This semester students will explore "The Meaning of Life" and will look at how others have found meaning. For example, we'll look into the works of Camus, Frankl and others. Times for both these groups will be announced. Check out Facebook!
Thanks
to the Shaner family for hosting Summer Connections August 12

to all who contributed cases of water for the Heat Respite program of Grace Lutheran Church, Phoenix. We contributed 14 cases of water.

to Blake Petersen for taking all the cases of water to Grace Lutheran Church

to Eric and Loni Lehnhardt for rebuilding the shelves in the kitchen cupboard and putting in new support for the shelves.
A special thanks to Eric Lehnhardt and team, Arno Leskinen and Colton Grimmer, to help take the old solar batteries to the Tempe Recycling center for proper disposal.
Help Our Garden Grow!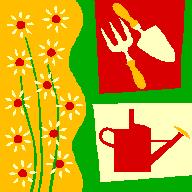 We are starting a ULC community garden! If you would like to be involved please contact Ruth Lindsay at the Church office. We are also accepting cash and in-kind donations! Thanks!
Arizona Heat
The heat of Arizona summer marches on. Perhaps I should say instead, "trudges" on as summer in Arizona, especially in August, seems to move at such a snail's pace it almost seems never-ending at times. Two more months of heat to go!
Water is a resource we use to battle the heat. We swim or simply soak in a pool. Then there are the omnipresent water bottle companions. Some are the disposable kind that we, hopefully, can recycle. Others are those that we fill and refill over and over again throughout the day. In recent years we have learned the great need we humans have to be hydrated. In Arizona summer keeping hydrated is particularly important.
Thanks
to Lana Neighbors for preaching/presiding Sunday, July 26 and for covering in June and July when Pastor Gary was out of town for a conference and for vacation.
Student ID Card Holder Cell Phone Wallet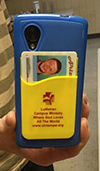 Another inovative idea that you will probably see many students carrying around.
The ID Card Holder (Cell Phone Wallet) attaches to their cell phones and keeps the two items together during their day on campus.
The phrase on the holders says, "Lutheran Campus Ministry - Where God Loves All the World. www.ulctempe.org
Condolences
condolences to Stephen Morgan whose grandfather, Charles Morgan, pass away this passed week. Stephen is flying back to Harrisburg, Pennsylvia, this week to be with his family. Please keep Stephen and his family in your prayers during this difficult time.
Honor Flight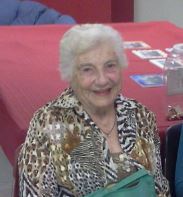 Ann Rispoli (U.S. Navy retired) will be flying with a group of veterans to Washington D.C. September 15-17 on an "honor flight." An "honor flight" honors World War II, Korea and Vietnam veterans by flying them to see the memorials built in their honor (in Washington D.C.). We all all so proud of her! Thank you for your service Ann!