Men's Breakfast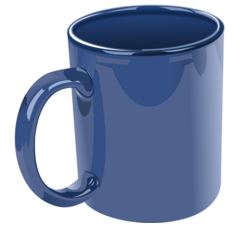 A great opportunity for all men of the University Lutheran Church community including guests, students, friends and members.
This month they will be meeting at the Harlow's on University Dr (map) at 8:30am.
No RSVP is required, but if you would like further information contact Blake Petersen by calling the Church office at 480-967-3543.
Open Forum
Meets Sundays 9:15am- 10:15am in the Campus Center Library
Sunday, February 7 "Wellness Study of ASU Students: What does this mean for Campus Ministry?"
Sunday, February 14: "What Makes a Great Christian?" Video presentation for a series on "The Lives of Great Christians" to follow the next few weeks.
Sunday, February 21: "Great Christians in ULC'LCM's 63 Years"
Sunday, February 28: " Paul and the First Missionaries"
Sunday, March 6: "Francis of Assisi"
Sunday, March 13: " St. Patrick of Ireland"
Has Science Buried God?

A presentation at ASU Thursday, February 25, 7:30pm, ASU College of Law, Main Hall., 1100 S. McAllister Ave. Professor John Lennox, University of Oxford is the speaker. For more information contact Veritas@asu.edu or go to Veritas.org.
Grand Canyon Women of the ELCA

Attached is our February 2016 issue of Canyon Echoes, the newsletter of our Grand Canyon Women of the ELCA.
Open it! Read it! Share it with the women in your congregation and their friends!
Volunteers Need To Help Paint the Stucco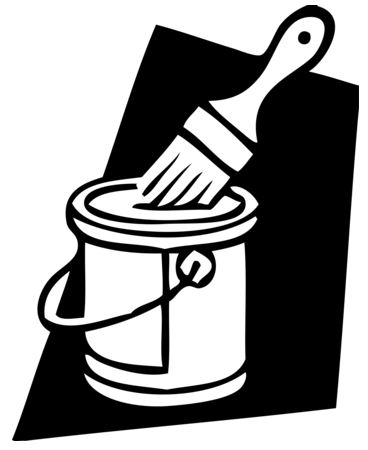 February 20th starting at 8:30 am, we are looking for volunteers to help paint the stucco in the new BBQ area. All the supplies will be furnished by a small grant from Thrivent Financial.
Since there will be no ladders involved, this should be a project provided we have enough volunteers.
Please see Terry Pochert, sign-up on the sheet on the moving bulletin board or call the Church office if you would like to help.
Page Turner's Book Club
LIKE TO READ? Please join us at noon in the church library on the first Thursday of each month. .
Birth
Benjamin Liam Borner was born January 16.Benjamin is the grandson of Steve and Barbara Talmage and the nephew of former Campus Ministry Associate Craig Talmage. Todd and Meghan Talmage Borner are the parents.
Baptism
Bianca Rose Baker Rinaldo was baptized Sunday, January 17. Parents are Shauna Baker, a doctoral student at ASU, and Ryan Rinaldo.
Thanks to Leonard Kalom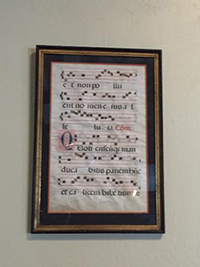 To Leonard Kalom who donated the framed Renaissance musical piece hung by the organ. This had been a gift given to Leonard in 1970 while a graduate student at Northwestern University, Chicago.
BBQ Kick-off a Great Success!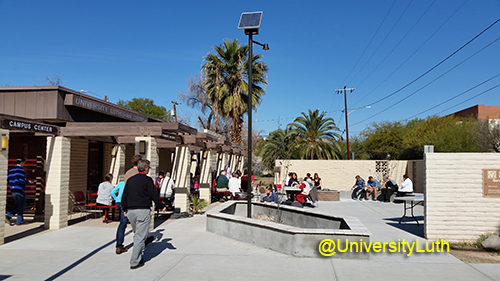 Thanks to those who helped to make the Bar B Q area happen! Thanks to Beth Wootten for coordinating the entire project and publicizing it, etc. Thanks to Arno Leskinen and Donna Lumpkin for choosing and planning for the tables and benches. Thanks to Brian, Holly, Maddie and Hayden Shaner for organizing the first Bar B Q and supplying the main dishes.
Grace, Grub and Grog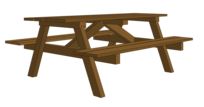 Grace, Grub and Grog is a fellowship group for young adults and graduate students. In February we'll have a picnic at Daley Park at College and Encanto on Saturday, February 27th, at 1:00pm. Sandwiches will be provided, but feel free to bring a side dish or dessert!
For more information, please contact Maddie Shaner by calling the Church office at 480-967-3543 or use our Contact Page.
ULC Kick-Off BBQ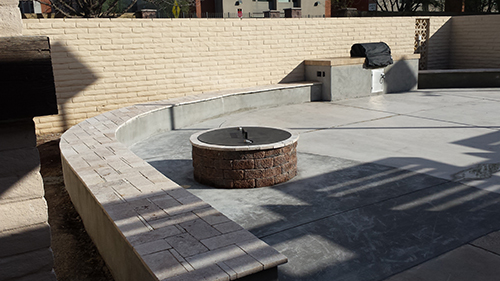 In honor of the new BBQ on our patio (and the fact that we have beautiful weather while the East Coast is in a blizzard) ULC is inviting you to a Kick-Off BBQ Celebration after church this Sunday! Burgers, Chicken, and Vegan Burgers will be provided. Please bring a side dish.
Pastor Holly Johnson Visits University Lutheran Church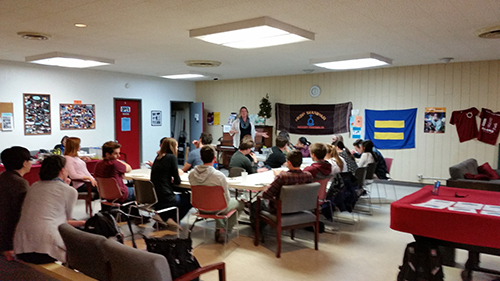 It was a great honor to have Pastor Holly Johnson, Graduate Admissions Director of Pacific Lutheran Theological Seminar, to talk and preach at Wednesday's Worship and Student Dinner.
We encourage any of these students and young adults interested in Pacific Lutheran Theological Seminar to contact the college.
Student of the Month - Sara Stoner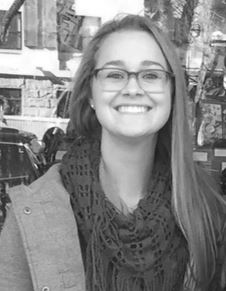 Sophomore, Grand Canyon University; Forensic Science Major
Why did you choose Grand Canyon University? Secretly, because I didn't fill out the paperwork for NAU in time, so my mom insisted on us visiting GCU. I applied the day I visited and was accepted. But GCU is a great school; I like the small campus and Christian community!
Gifts of Stock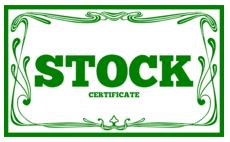 We do, at times, receive gifts of stock as contributions to support our ministry. For some this is a better tax option. We have an account that can be used for ULC/LCM. Notify the church office if you are interested or have questions.
Lent
February 10: Ash Wednesday: Imposition of Ashes 6:30pm
Mid Week worship in Lent will be Holden Evening Prayer 6:30pm. Our theme will be "Got Lent?"
February 17: Sacrificing
February 24: Repentance
March 2: Self Reflection
March 9: Contemplation/Prayer
March 16: Reflecting Upon the Cross: Reflection on Jesus.
March 23: Summing Up
Wednesday Bible Study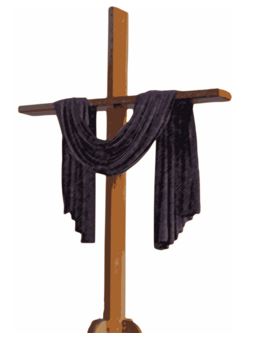 Our theme for Lent "Biblical Celebrity Challenge". We will portray various Biblical persons, both well-known and little-known to provoke discussion.
Rally in the Valley
Rally in the Valley, an annual event for seniors in Grand Canyon Synod is February 15-16. Among others, Presiding Bishop Elizabeth Eaton will be a speaker. There may yet be spots available. Check the synod web website for more information: www.gcsyond.org
Lookin' Good....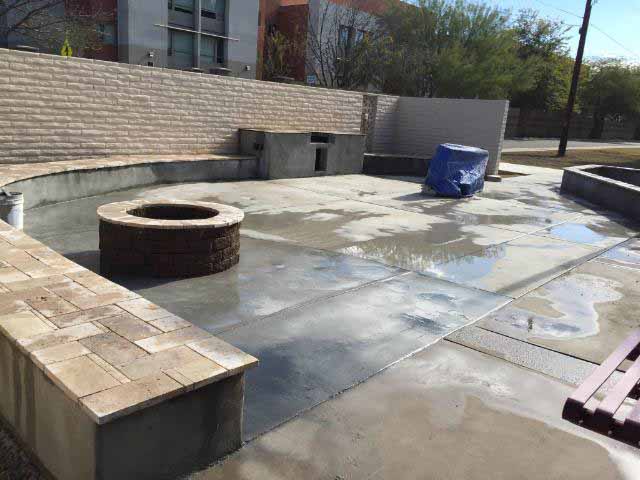 Yea, the new area east of the Center is coming along, and isn't it an inviting development with barbecue, firepit, trees and lots of seating? We haven't exactly rushed into the expansion of this gathering area, but we can all be pleased with the enhancement of our property.
Young Adult Hike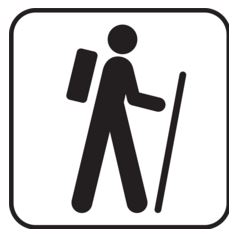 Saturday, February 13th, we'll meet at ULC at 9:00am and carpool to the Dixie Mine Trail.
This is a moderately easy trail; people of any hiking experience are welcome!
For more information, please contact Maddie Shaner by calling the Church office at 480-967-3543 or use our Contact Page.
Student Exchange
We are a small non-profit, foreign-exchange student organization looking for caring host families in your community, and we need your help! We have Lutheran students from Germany that would like to come for the 2016-2017 school year and are waiting for their match with a volunteer host family.
Ash Wednesday Worship
Ash Wednesday Worship
Imposition of Ashes
February 10
6:30pm
Anniversary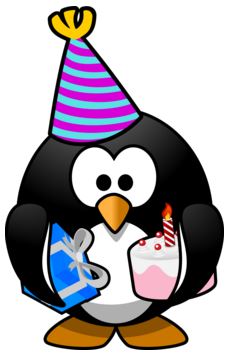 Yup, another anniversary of our Congregation is coming up. Make sure you mark Sunday, February 21st, on your Calendar. All the "doings" will be after Church.
Dinner will be potluck with a program being planned by students Rebecca Sherod and Julie Gerrish.
This would be a great time to invite your friends, fellow students, your parents. If you are in touch with any former members, this might be a good time to extend an invitation.
Stay tuned for all the exciting details.
BBQ Progress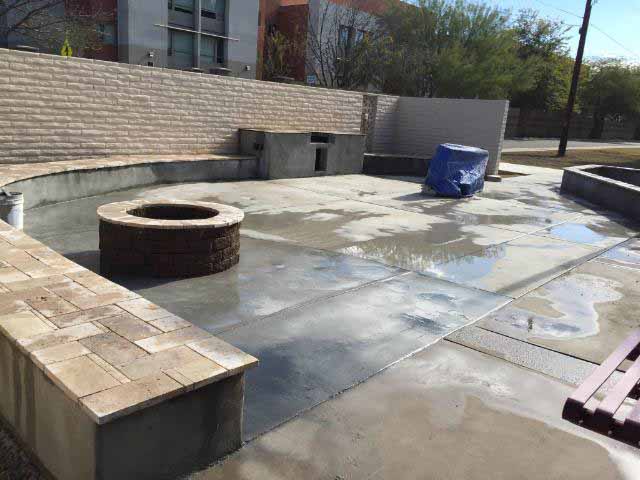 Thanks to your donations and pledges for this project, the BBQ project has started. Please continue to support if you can.
Amazing! Just in time for Spring!
Council of Religious Advisers
As many of you know Alicia, Maddie and I attend a meeting of ASU's Council of Religious Advisers each month during the academic year. A typical attendance is about 40 pastors, leaders, and students from our ASU campus ministries officially partnered with ASU and recognized by them. Each month we have speakers that have something do to do with what is happening or what is to happen at ASU. They help us shape our ministry accordingly. For example when we learned a greater emphasis was going to be put on graduate students at the Tempe campus, we created the Young adult group as a separate group here.