Open Forum
Coming Attractions in the Open Forum....
November 29: NO FORUM
December 6: "What Is Next?" After marriage equality happened in Arizona, is our work done? Terry Pochert and Joe Connolly
Lessons and Carols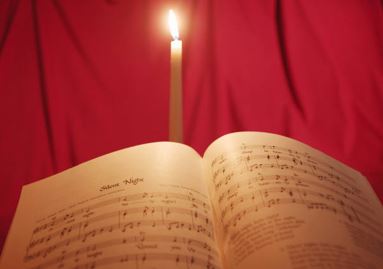 Mark your calendars now! The service for Lessons and Carols will be Wednesday, December 2, 6:30pm. Invite your friends now! This has been an outstanding tradition here at ULC/LCM the past several years and a great way to begin the Advent Season.
December 2, 6:30 pm
Decorate the Sanctuary
Following the Lessons and Carols service and reception December 2, we'll need a little help to stay, put our trees in the stands and place lights on them. If you could help, it would be greatly appreciated! With a group of about one half dozen folks or more this goes rather quickly. Thank you!!
We are also continuing to receive offerings for poinsettias, etc. to decorate the church for Christmas. You may make your offering on line, through the mail, or in worship. Mark your check or offering "Flowers". Envelopes are in the chair racks for flowers. We are planning on 4 trees again this year. At this writing all four are not yet taken.
Men's Bakeoff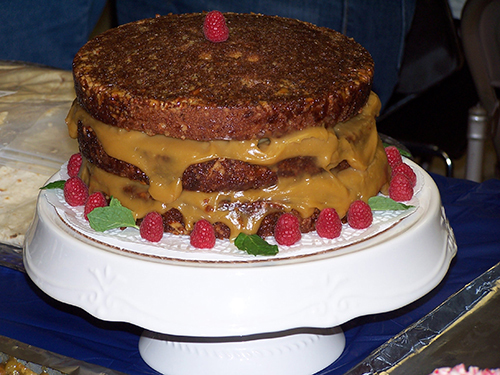 We will be holding the men's bakeoff immediately after church on Sunday December 6. The main dish of ham will be provided. A sign-up sheet has been posted on the bulletin board, so please sign up. Please bring side dishes (some suggestions are noted) along with desserts. Anyone is free to bake a dessert to auction, but we will be calling it the men's bakeoff for historical sake. The desserts will be auctioned off to benefit children in need of people that work at St Joseph's Medical Center in Phoenix.
THERE IS A SIGN-UP SHEET ON THE MOVING BULLETIN BOARD
November Food Emphasis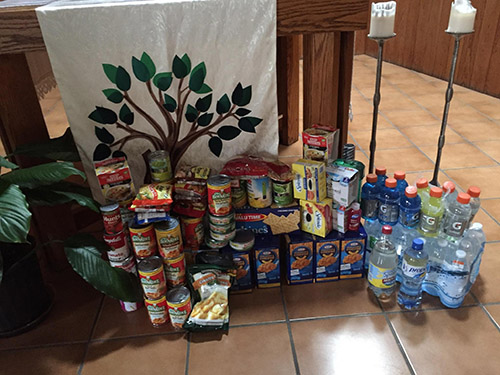 We will have a special emphasis on hunger and food donations throughout the month of November. We will receive gifts of non-perishable food items, put the gifts before the altar each week, and watch the gifts grow. Enclosed in this newsletter is an envelope for Lutheran World Hunger, recognized as one of the world's top food relief agencies. Gifts of money for World Hunger are especially encouraged this month. Thank you!!
LCM Student of the Mont - Mariana Carpter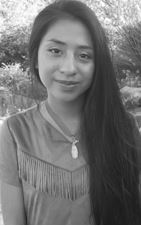 Senior(ish), Communications Major
Why did you choose ASU? It was close to home.
Why did you choose your major? I took a Communications class at Mesa Community College and enjoyed the topic.
A Word to the Wise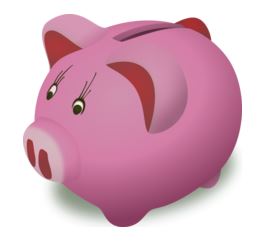 At its November meeting, the Church Council heard Treasurer Beth Wootten report that benevolence receipts at this point have been disappointing: at 33% our fiscal year, contributions to ULC were only 21%! Fortunately, expenses have been less than anticipated, but that discrepancy causes some raised eyebrows. The treasurer's report can be found posted on the wall in the Center, but the actual dollars are less vivid than the percentages noted above.
If you missed the usual reminder to review your proportionate giving, and your total gifts of time and talent this year, it was because we didn't send one! So now, how about looking to see if your giving reflects your thankfulness for the personal and monetary benefits you are receiving? You know the old illustration of the candy bar, how much easier it is to give that first portion and still have 9/10 remaining…
Questions? Check with Beth or Terry Pochert, who assists in so many of the financial aspects of record-keeping.
No Longer a Dream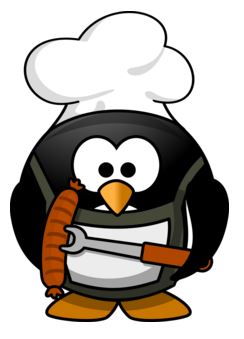 After more time than we like to recall, the barbecue east of the Campus Center is becoming a reality!
We'll have a ten foot counter with a built-in barbecue east of the area already graced with permanent picnic tables. The BBQ will be secured with a locking mechanism to protect it and the propane tank. All the counters and built-in seating areas around the wall will be topped with Travertine, which is scratch-resistant and easy-to-maintain.
Masterscapes, a local top-rated company specializing in hardscapes, has provided bonuses in view of the extensive investment we're making: a firepit and two plum trees! The firepit will also have a lid and locking mechanism similar to that for the BBQ in efforts to deter vandalism. And the trees will offer some shade to the area.
Women's Bible Study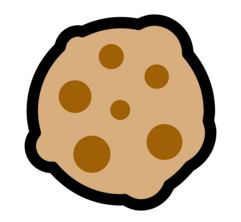 Women's Bible Study with cookie exchange will be December 10 at 7 p.m. at the home of Sarah Salinas.
All women welcome!
December Wednesday Worship
All Wednesday Services start at 6:30 pm
December 2: Lessons and Carols - Reception following. Weather permitting we'll have the reception on the patio...hot chocolate, cider, and fall treats! If you can help provide any of these please contact Alicia Danielson or Aiko Mancini using our CONTACT PAGE
Holden Evening Prayer
December 9: "Work as a Sign of Hope" Ecclesiastes 3:16-22
December 16: "Faith as a Sign of Hope" Psalm 145: 10-21
December Bible Study
Study for Students begins at 5pm
December 2: "Mary, Mary, Not Quite so Contrary!" Luke 1:46-56
December 9:" John the Baptizer, the Church's Seasonal Employee" Luke 3:1-20
Diversity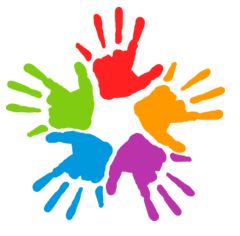 Diversity may be coming slowly into the Lutheran Church, but it is coming. We have seen it here at ULC/LCM. In recent past we had members from Tanzania and Ethiopia. Last year we bid adieu to two Brazilian students. These are only a few of the international students and church members we have had over the years. Currently we have two Tanzanian students, one Ethiopian, and one from China. How might it feel to be part of an American Lutheran community? The article linked below is one view of how an American of color (and life-long Lutheran) experienced the Lutheran Church. Food for thought for even the most inclusive among us.
Grace, Grub, and Grog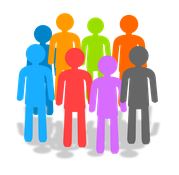 Grace, Grub, and Grog is a group for young adults, grad students, and recent grads. For November, we'll mix it up and meet on the third Saturday, November 21st, to avoid Thanksgiving weekend. Come to Maddie Shaner's home at 5:30pm for snacks and fellowship before we all get too busy with the holidays!
For more information, please contact Maddie Shaner through the Church Office by using our CONTACT PAGE.
Lenten Devotions
Yes, the entire ULC/LCM community is once again at it writing devotions for Lent. We know this is an odd time to talk about Lent, but with publication deadline for our Lenten devotional about the time students return in January, we need sign ups now! You may sign up on the form on the desk at the church entrance. You may write one, two, three or more devotions!
We are looking for a paragraph commenting on the assigned text/topic. Then a one or two sentence follow-up prayer. E-mail devotions to info@ulctempe.org. by January 10. Thank you!
(There are also reminder forms you may fill out and take with you so you remember the text(s) you signed up for)
Student Meals
Thank you to all who provided meals for students this semester! What great support! What a magnificent array of menus and foods! It is hard to decide what is better: our support or the wonderful meals!! Thank you, thank you, thank you!!
We now have a sign up sheet on the moving bulletin board for next semester. You may sign up at any time. If you would like to provide a meal but can't cook for a group, offerings of money for food are accepted as well. Students will then do the shopping and cooking. Thank you!!!
We Wish you a Merry Christmas..
Students will be carolling Saturday, December 5. Questions? Contact Alicia Danielson by using our online CONTACT FORM.
Christmas Family
Students receive an offering each time we gather to eat dinner. The money is used to provide Christmas gifts, food, etc. for a family assigned by Lutheran Social Services of the Southwest. Students shop, wrap and deliver the items each year. If you would like to help with this, contact Alicia Danielson by using our online CONTACT FORM.
Winter Retreat
Our annual student winter retreat will be in Sedona with U of A and NAU campus ministries. The dates are January 29-31
Lefse! Alicia and the Campus Ministry elves have been busy making thousands of rounds of lefse. Packagges of 6 sell for $10.00. You may ask Alicia, Pastor Gary, or many of the students if you would like to purchase some. They have already been out selling in East Valley churches and congregations in the Sun Cities area and will continue to do so in early December. Students worship with the congregation where they sell lefse, then return in time to join in the student meal.
End of Year Contributions
For financial gifts to be counted toward 2015 giving and tax purposes, gifts need to be received in the church office by closing, 2pm, Thursday, December 31. Thank you!!
Usher, Communion Assistant, Altar Guild, Lector..
With students gone much of December and January we need more folks to sign up to cover worship leadership areas during those times. Sign up sheets are on the moving bulletin board. Thank you for helping in this way!!
Mid Week Advent Worship
Wednesdays 6:30pm
December 2: Lessons & Carols
December 9: Holden Evening Prayer , "Work as a Sign of Hope"
December 16: Holden Evening Prayer, "Faith as a Sign of Hope"
December 23: No mid week worship
December Student Schedule
Sundays
Sunday, December : Worship 10:30 dinner following
Sunday, December 13, 20, 27: Worship 10:30, no dinner
Wednesdays
December 2
5pm, Bible Study "Mary, Mary, Not so Quite Contrary"
5:30pm: Dinner
6:30pm Worship: Lessons & Carols
Decenber 9:
5pm Bible Study "John the Baptizer, the Church's Seasonal Employee"
5:30-pm Dinner
6:30pm: Worship "Work as a Sign of Hope"
December 16
No Bible Study/dinner
Worship 6:30pm: "Faith as a Sign of Hope"
December 23:
no schedule, Wednesdays resume January 13
December 24: Christmas Eve Candle Light Worship 6pm
Classes Begin January 11
Ian Lee, former LCM student, Reports for CNN - October 31, 2015
It's always great to see the success for former LCM students as they change the world. Ian Lee now reports for CNN on many middle east news stories. The most recent is on the Russian plane crash.
ASU Council of Religious Advisors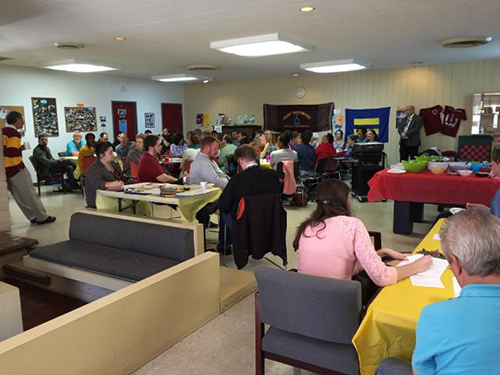 ASU Council of Religious Advisers (CORA) hosted by ULC/LCM on November 4, 2015. Great turnout with 47 folks in attendance.
Read more about the Council by visiting the ASU website by CLICKING HERE.