REGULAR SCHEDULE

Sunday
Worship
10:30 am
Sunday School and
Adult Forum
9:15 am
After Labor Day

Wednesday
Worship
6:30 pm
STUDENT SCHEDULE
Limited events between semesters
Wednesday
Bible Study 5pm
Dinner 5:30pm
Contemporary Worship 6:30pm
Sunday
Worship 10:30am
Dinner following
Students: Check out the Campus Ministry page for specific student events.

We are a
Reconciling Works - Lutherans for Full Participation
congregation
University Lutheran Church intends to provide a safe and welcoming environment for all of God's people, regardless of race, situation, family status, sexuality, size, shape and place in the world. ULC is a Reconciling in Christ congregation registered with Lutherans Concerned/North America. Thanks be to God for the blessings we have and the differences we share!
Welcome all students and parents. (map)
Women's Bible Study will meet these Thursdays, at 7 p.m.:
Thursday, June 30 at Carmen Bieber's
Thursday, July 21 at Ellie Strang's
Thursday, August 18 at Kim Savage's
Marcie Gest Mission Trip to India
Marcie Gest, ULC member and wife of Darren and mother of Dean is a nurse. Marcie has been accepted to be part of a mission trip to India. Congratulations, Marcie! We can also collect supplies for Marcie to take for her trip. Below is part of an e-mail from Darren and Marcie regarding the trip:
Marcie will be going to Hyderabad, India from October 29 - November 12 as part of a mission trip for her school to provide healthcare to leper colonies. They have to bring their own supplies, so below is a list of supplies they are collecting, so if anyone wants to donate, they would be greatly appreciated. Also Marcie would like to do an adult forum about it once she gets back, likely after the New Year.
Note that a large part of the healthcare provided is wound care, so any supplies that can be collected for dressings are much needed. Supplies can be put by the desk at the church entrance. Thank you!
Vitamins (adult and children)(gummies are great but tend to get melty due to heat)
Pain Relievers (Tylenol, Ibuprofen – Adult and Children)
Antibiotics – Oral (Ampicillin, Erythromycin, Amoxicillin, doxycycline etc) for both adults and children
Ointments – Bacitracin, Triple Antibiotic, Neosporin, Polysporin, vaseline
Ear/Eye antibiotics and eye drops (saline flush and lots of 3 cc syringes no needles)
Scabies/Lice Lotion/Shampoo
Skin Ointments/Creams (antifungals, anti-itch with and without steroid (Hydrocortisone)
Non Sterile gloves (latex free also needed)
Sunglasses
Reading glasses (low numbers)
Toothbrushes/toothpaste (adult and kids)
Dressings /band-aids (lots of these, gauze wrap, 2x2s, 4x4s, cuban, etc)
Tongue depressors (not a lot)
Hand sanitizer (yes)
Betadine scrub (not a lot)
Hibiclens (not a lot)
Accu-checks
Stethoscope /otoscope/BPcuffs
Tums (or zanatac, pepcid etc)
Condoms
Empty pill bottles
Alcohol wipes
Vitamin A
Vitamin D
CTAs
Single use single unit scalpels
Student Meals
Thanks to all who provided meals for students last semester.A thank you gift is on the pool table in the Campus Center for you. A sign up sheet is now on the moving bulletin board for fall semester meals. If you are paying for a meal rather than preparing/delivering a meal, please indicate so on the sign up. Thank you to all who so generously provide food for our students.
Thanks
to Nick Cota, Troy Wagner, Julie Gerrish, Alex Smith, Rebecca Sherrod, Mikayle Holm for teaching Sunday School
to all who made the banquet such a big success
to Terry Anderson and Lori Zurcher for painting the wall surrounding the drinking fountain
to Stephen Gerrish, Terry Anderson and Lori Zurcher for providing a truck to load/unload book shelves from the Interfaith Library.
to Alicia Danielson, Terry Pochert, Joe Connolly, Stephen Gerrish, Terry Anderson, Lori Zurcher and Blake Petersen for loading/unloading book shelves
to Blake Petersen for preparing and serving breakfast (crepes...Yum!) to those volunteering to move the bookshelves from University Presbyterian to our Campus Center.
to all who helped with the Thank you Bar B Que...arranging, cooking, shopping, serving, cleaning up, setting up, arranging umbrellas, tarps, etc.
to Cindy, Paul, Julie, Stephen and Sparky Gerrish for hosting our pool party.
to Will and Mary Ann Salz for making crosses and gifts for our graduating seniors
Senior Banquet
Our Hawaiian themed banquet, complete with leis was May 10. Many students and congregational volunteers worked hard to buy, plan, prepare, serve and clean up for the banquet. Alicia did a marvelous job coordinating it all.
Eleven Seniors were recognized:
Sarah Brown: Communications, History minor
Andi Castro: English Literature
Julie Gerrish: Elementary Education
Mikayle Holm: Bio-medical Engineering (also banner bearer for gradution)
Trevor Johnson: Religion & Philosophy
Christian Normand: Mechanical Engineering, Sustainability minor
Blake Bostick Petersen: French Language & Literature
Colleen Sherrod: Sociology, Family & Human Development minor
Scott Stark: Political Science
Troy Wagner: Biological Sciences
Jonathan Yocky: Computer Science
Young Adults in Global Mission
Last month's newsletter we mentioned three of our community were selected to be part of the ELCA's Young Adults in Global Mission program. At that printing it was uncertain where they were going. We now know Julie Gerrish is headed to Senegal for a year and Annie Skivington will be off to Hungary for a year. Mikayle Holm has elected to head to Minneapolis, MN for graduate school.
Congratulations! Please keep these former students and their families in your prayers.
Looking Ahead....
Worship returns to 10:30am August 21. Classes resume August 19 and Passport to ASU is August 18. San Diego Retreat is September 2-5.
Our first Wednesday worship is August 24 with Summer Connections potluck here in the Campus Center beginning at 5:30pm.
Summer Connections!
It feels like summer is here so that means it is time to mark your calendars with dates and locations of our informal gatherings affectionately known as Summer Connections!
Summer Connections are casual, unstructured gatherings where we can meet new friends and catch up with the old (long time) friends. We share dinner and conversation twice a month during the summer, which is only June, July and August just in case you are not sure! We have a potluck at someone's house 6:00 pm on Wednesday evenings. The hosting family usually provides the main dish, often grilling hamburgers and hot dogs, however if you would like to serve top sirloin no one will complain. Everyone else brings a side dish or dessert and their own beverage.
Whether you can make all the connections or just one, please put the following dates on your calendar. We never know what we will eat, who will be there or what the weather will be like (OK 100's) but we do know it is a good evening of enjoying positive fellowship, meeting new people and trying new things. ALL ARE WELCOME!
Another Fun Project Completed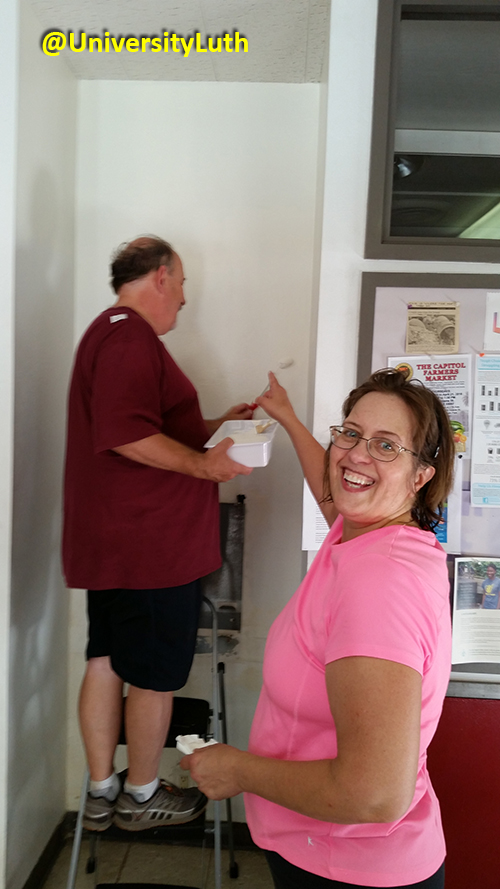 There are always tons of projects to do around the Church. From goodies, snacks, student meals, altar care, etc. It's amazing what we can do with an active community.
Here's just one example: Terry Anderson and Lori Zurcher painted the alcove for the newly refurbished water cooler which now has a new motor and filter.
It looks like at least one person is enjoying the projects.
Wednesdays in the Summer are busy for LCM!
We will have Movie Discussion Nights and Bible Study Nights for students during the summer in the Campus Center. All are welcome!
Movie Discussion Nights
We will meet in the Campus Center. Snacks are provided.
Wednesday, June 29 7:00 PM "Rain Man"
Wednesday, July 6 7:00 PM "Gandhi"
Wednesday, July 20 7:00 PM "The Pianist"
Wednesday, August 10 7:30 PM (following Summer Connections)
"Stranger Than Fiction"
Bible Studies—Women in the New Testament
We will meet in the Campus Center. Students are encouraged to attend Summer Connections for a meal and fellowship, then go to ULC for the Bible Study.
Wednesday, June 8 7:30 PM
Wednesday, June 22 7:30 PM
Wednesday, July 13 7:30 PM
Wednesday, July 27 7:30 PM

For those who wish to have offerings transferred electronically to their church's account.
It's SAFE AND SECURE
---

Follow Lutheran Campus Ministry
at ASU

Your Purchase Using This Link Helps LCM
---
Director of Music


Aiko Yamada-Mancini
Click for Full Map